---
Lexington, Mass., February 27, 2020 – FUJIFILM Medical Systems U.S.A., Inc., a leading provider of diagnostic imaging and medical informatics solutions, and Sun Nuclear Corporation, a provider of innovative solutions for radiation therapy, diagnostic imaging and patient alignment, announced that the two organizations have joined efforts to educate, train and bring awareness to the importance of breast cancer screening.
A special educational event was hosted by the two organizations at Sun Nuclear Corporation headquarters in Melbourne, Florida on February 26 to raise awareness of the benefits of mammography screening for early detection of breast cancer.
"Fujifilm and Sun Nuclear Corporation share a common interest in enabling access to breast health education and mammography screening services for every woman who needs it," said Rick Banner, Senior Director of Marketing, FUJIFILM Medical Systems U.S.A., Inc. "Through outreach and collaboration with women's health leaders, we are hoping to empower women to be fearless in their approach to their breast health."
The Aspire to Be Fearless mobile mammography coach was present at the educational event and provided attendees with the opportunity to tour the coach and view the ASPIRE Cristalle 3D mammography system and an ASPIRE Bellus II mammography workstation together with Sun Nuclear's comprehensive mammography quality assurance suite. Approximately 60 Sun Nuclear distributors from all around the world and 200 Sun Nuclear employees toured the coach.
Launched in 2019, the Aspire to Be Fearless campaign is designed to educate women on the importance of screening and to increase access to breast health exams for women across the country. The 18 month, 48 state campaign will be a collaborative effort between Fujifilm and trusted local women's imaging clinicians to provide services and invaluable information about the importance of early detection.
"As the global market leader in independent quality management solutions for cancer care, Sun Nuclear is pleased to collaborate with Fujifilm to raise awareness on the importance of early detection in breast cancer," said Jeff Simon, CEO of Sun Nuclear. "Our employees and global distributors appreciated the opportunity to see Fujifilm's advanced technologies firsthand here in Melbourne."
For more information about the Aspire to be Fearless campaign, please visit https://www.aspiretobefearless.com/

---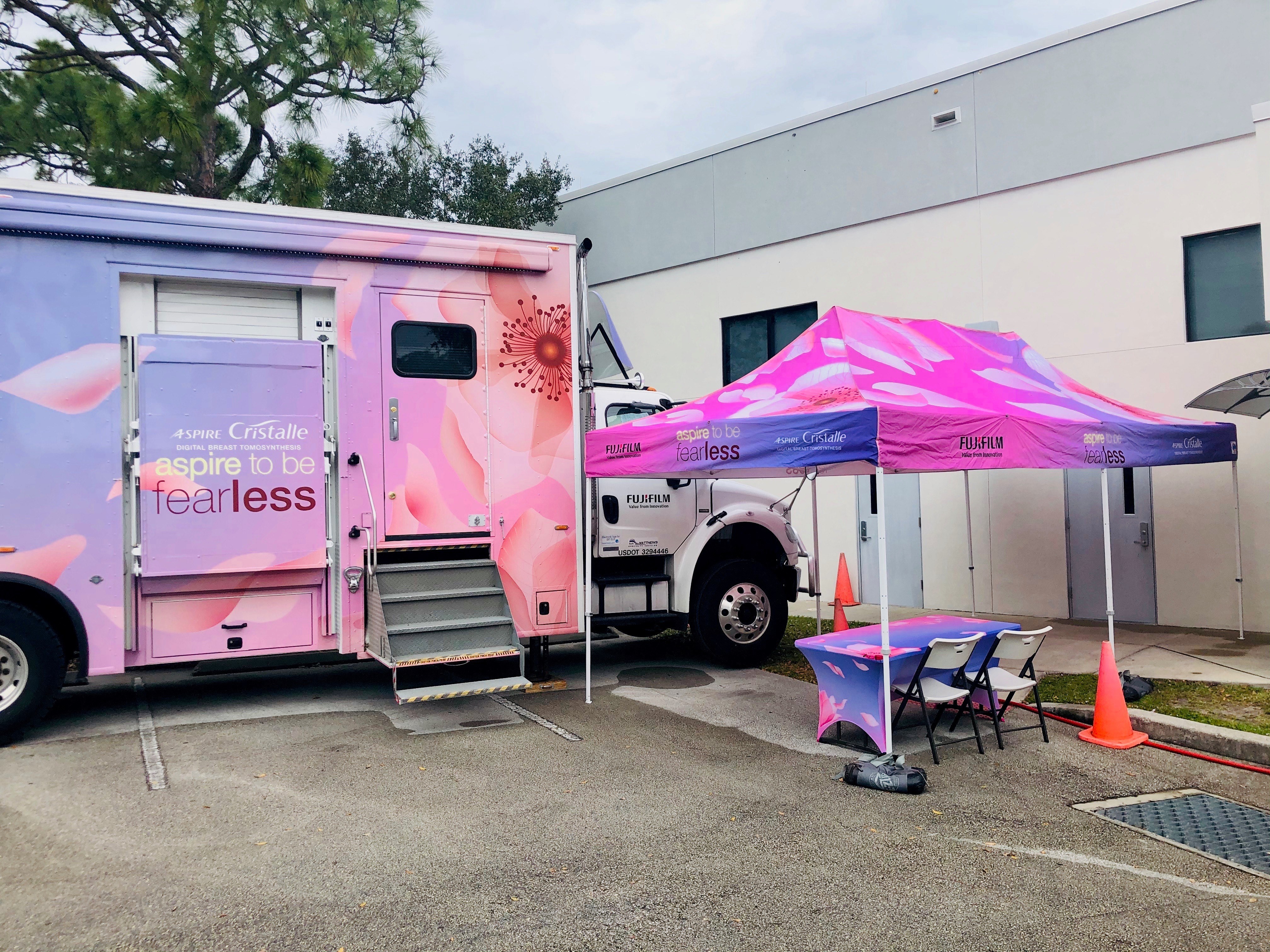 ---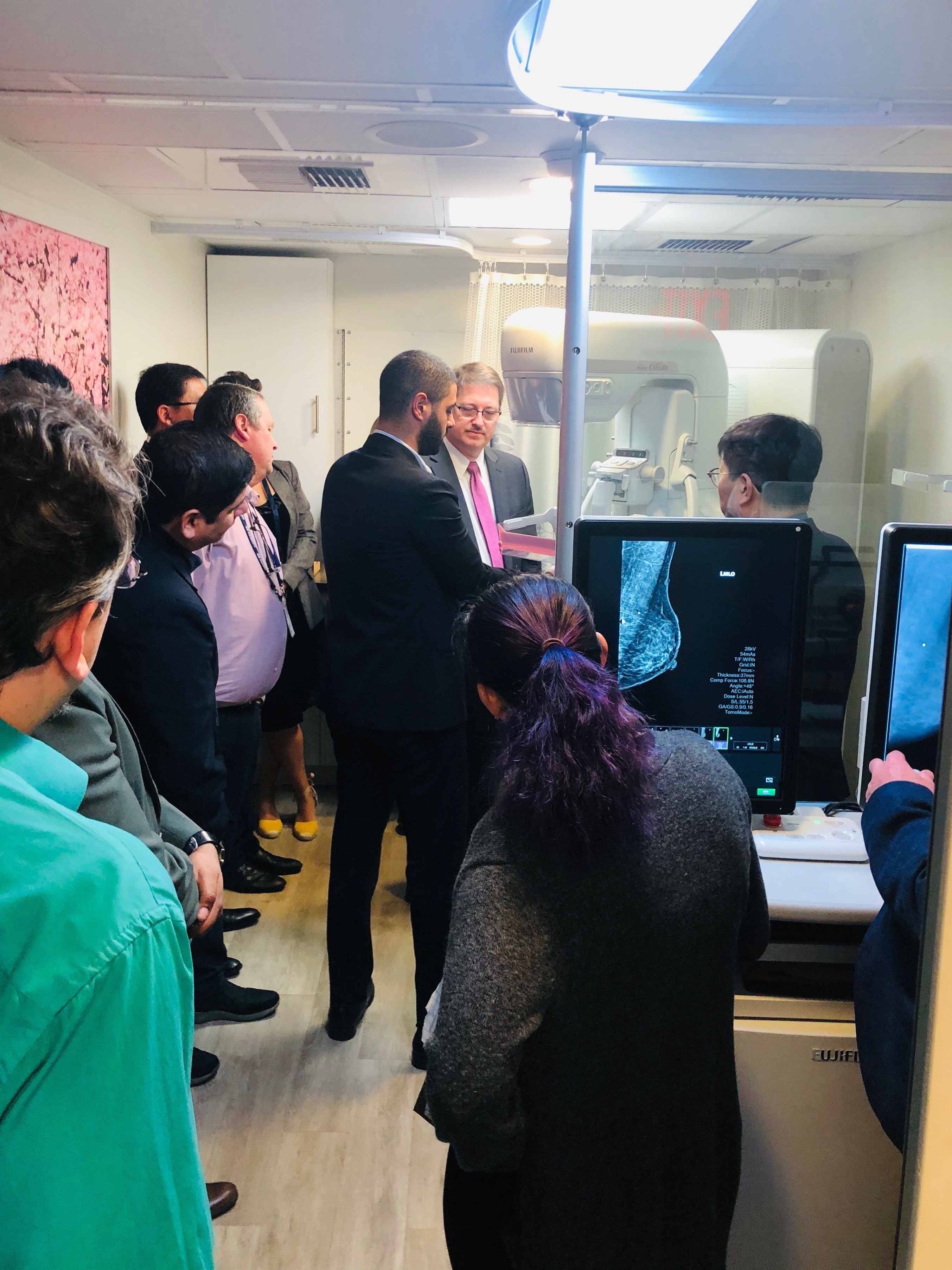 ---
About Fujifilm
FUJIFILM Medical Systems U.S.A., Inc. is a leading provider of diagnostic imaging products and medical informatics solutions that meet the evolving needs of healthcare facilities both today and tomorrow. From an unrivaled selection of digital X-ray systems (DR: detectors, mobiles, and rooms), to the comprehensive Synapse® Enterprise Imaging portfolio, to full-field digital mammography systems with digital breast tomosynthesis, and computed tomography solutions, Fujifilm has products that are ideal for any size imaging environment. FUJIFILM Medical Systems U.S.A., Inc. – Endoscopy supplies high quality, technologically advanced endoscopic imaging solutions and devices to the medical field. Fujifilm's TeraMedica Division, the leading provider of vendor neutral, enterprise-wide solutions for unrestricted medical image management and the core to the Synapse Enterprise Imaging portfolio, enables improved interoperability by connecting imaging content across the entire care continuum. FUJIFILM Medical Systems U.S.A., Inc. is headquartered in Lexington, Massachusetts. For more information please visit www.fujimed.com and www.fujifilmendoscopy.com.
FUJIFILM Holdings Corporation, Tokyo, Japan, brings cutting edge solutions to a broad range of global industries by leveraging its depth of knowledge and fundamental technologies developed in its relentless pursuit of innovation. Its proprietary core technologies contribute to the various fields including healthcare, graphic systems, highly functional materials, optical devices, digital imaging and document products. These products and services are based on its extensive portfolio of chemical, mechanical, optical, electronic and imaging technologies. For the year ended March 31, 2019, the company had global revenues of $22 billion, at an exchange rate of 111 yen to the dollar. Fujifilm is committed to responsible environmental stewardship and good corporate citizenship. For more information, please visit: www.fujifilmholdings.com.