---
Sun Nuclear announced today that Chang-Gung Memorial Hospital (Tucheng Branch) has installed a CT SIM+™ moveable laser system, the first of its kind in Taiwan. Chang-Gung Memorial Hospital selected this next-generation laser system, produced by Sun Nuclear, for the accuracy and workflow advantages it brings to the Computerized Tomography (CT) Simulation process.
Sun Nuclear Corporation is the worldwide market leader in Quality Management solutions for Radiation Therapy and Diagnostic Imaging. With more than 4,000 laser installations worldwide, Sun Nuclear is a leading producer of Patient Alignment solutions. CT SIM+ lasers are exclusively distributed in Taiwan by Blessing Cathay Corp.
The Sun Nuclear Support team and Chang-Gung Memorial Hospital Medical Physics team worked together closely to overcome challenges of not being able to install the system together on-site. The two teams worked collaboratively to get the lasers installed in time for the Tucheng Branch's grand opening.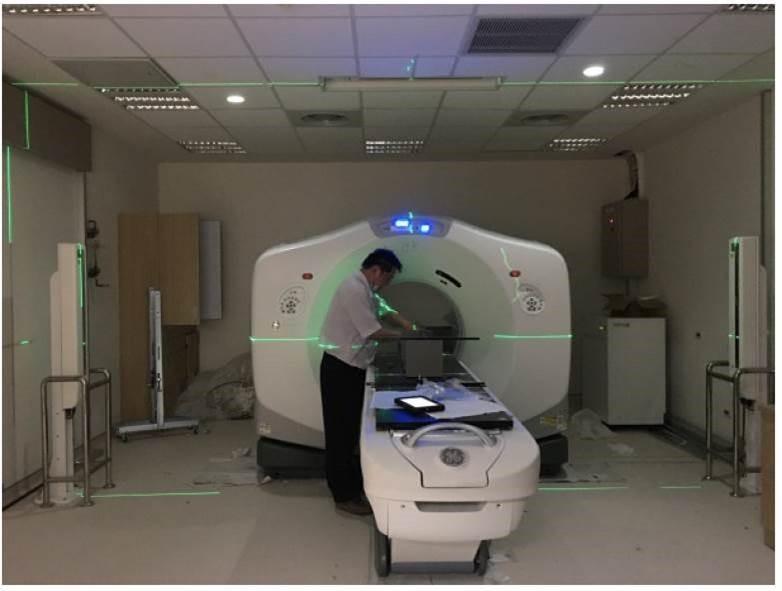 Enhancing a Critical Step in Cancer Treatment
CT Simulation is used prior to radiation therapy to determine the exact location, shape and size of a cancerous tumor. Lasers are used during this process to mark where the radiation treatment will enter a patient's body to target the tumor.
With submillimeter accuracy, Chang-Gung Memorial Hospital's CT SIM+ users can be assured they are marking patients correctly. In addition, the complementary touchscreen control monitor and remote-control tablet, using wireless technology, allow for a patient-focused workflow, freedom of movement, and simple data upload during the CT simulation process. These user-friendly tools support DICOM (Digital Imaging and Communications in Medicine) and text file interconnectivity so Chang-Gung Memorial Hospital can ensure compliance with radiation oncology standards.