---
Scalability – check. Sustainable workflow efficiencies – check. Robust data security and redundancy – check. Taken together, these are the enhanced benefits of the SunCHECK Quality Management Platform from Sun Nuclear following the release of the cloud-hosted, software-as-a-service (SaaS) option of a product that's already the de facto QA engine-room for more than 1600 radiotherapy customers globally.
---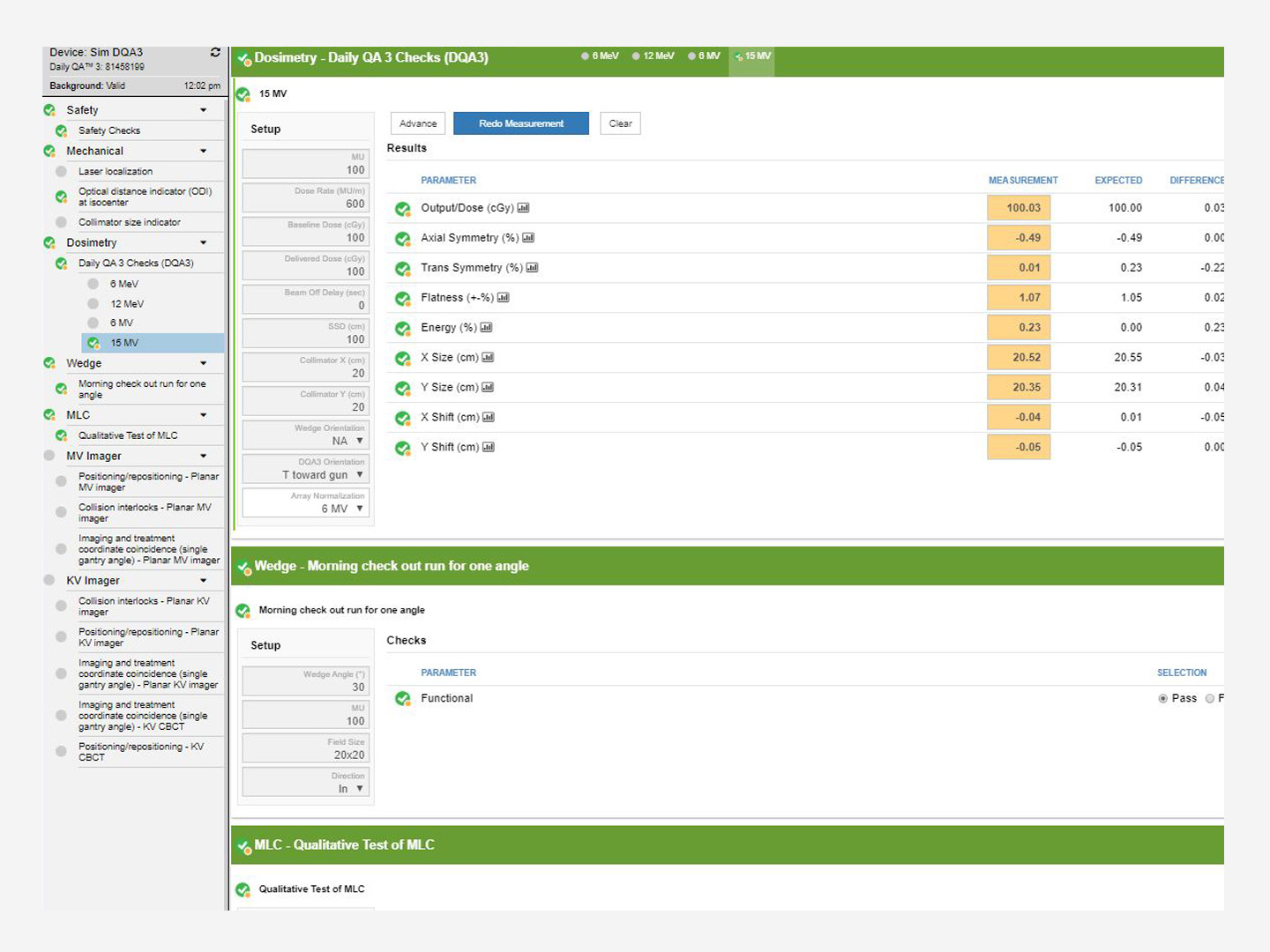 For context, SunCHECK is a single interface and database offering a unified view of patient and machine QA independent from the treatment system. SunCHECK Patient encompasses all aspects of patient QA, including plan checks, secondary checks, phantomless pre-treatment QA and automated in vivo monitoring. Meanwhile, SunCHECK Machine addresses critical machine QA needs, including template-driven daily, monthly and annual QA; automated imaging, multileaf collimator (MLC) and volumetric modulated arc therapy (VMAT) checks; as well as long-term data trending and analysis.
Operationally, a dedicated SunDEPLOYS team also works side-by-side with new customers to ensure users achieve their clinical operational goals – from project management, site planning and system preparation all the way through training and go-live support.
---
Built-in scalability
In this way, SunCHECK already provides the "infrastructure of choice" to meet clinical customers' diverse QA requirements – from single-linac treatment centres to large research hospitals and regional radiation oncology networks. If that's where things stand now, however, the cloud-hosted SaaS model represents the future direction of travel for the product development roadmap – and a significant investment by Sun Nuclear in the long-term growth of SunCHECK's clinical footprint.
Streamlined introduction and deployment are fundamental to efficient software implementation and, as such, sit front-and-centre within the SaaS business model. "One of the challenges with any enterprise software is the need to run and keep current an onsite server," explains Adrian Fleet, SunCHECK international account manager. "With the SaaS SunCHECK acquisition model, we can leverage the power of the cloud and eliminate this challenge."
Put another way: the cloud-based implementation model addresses the burden associated with local management of software and servers, reducing the budget, time and resources required for upfront deployment, ongoing platform support and software version updates. "At the recent ESTRO and AAPM annual meetings," Fleet adds, "attendees were eager to learn more about the SunCHECK Platform, knowing that their clinics may have an easier time getting buy-in on the SaaS option. Initial markets adopting the SaaS model include the US, UK, Germany, Spain and Australia."

---
"One of the challenges with any enterprise software is the need to run and keep current an onsite server. With the SaaS SunCHECK acquisition model, we can leverage the power of the cloud and eliminate this challenge."
Adrian Fleet

SunCHECK International Account Manager
---
Equally significant, the SaaS version of SunCHECK is a response to another key pressure point for clinical IT departments: the need to ensure evolving best practice when it comes to data storage, management, cybersecurity and operational continuity. "The SunCHECK SaaS option is all about giving the customer peace of mind," notes Fleet.
With Amazon Web Services (AWS) as the cloud provider, for example, there's built-in data backup and redundancy as standard, plus the highest levels of data encryption (both at rest and in-transit). Fleet continues: "Out of the box, SunCHECK SaaS provides a complete solution, including all the software licences, training and support as well as a secure and inherently scalable cloud-hosting environment. Sun Nuclear is currently pursuing ISO 27001:2013 certification, further reinforcing the commitment to security."
Alongside the cloud-hosting innovations, the SunCHECK development team has been future-proofing the platform's databases and associated patient and machine QA workflows. "As part of this project," explains Fleet, "we challenged our team with establishing an architecture that meets the demand for high performance and easy implementation, while creating a pathway for highly sought-after future enhancements for both SaaS and on-premise customers."
Education and execution
In terms of outreach to promote the SaaS model, Sun Nuclear will be running a series of user meetings and clinical cross-site visits for existing and prospective SunCHECK customers in the EMEA region in the second half of this year. Those user meetings will take place at existing SunCHECK reference sites, including long-term users of the software like the UK's Clatterbridge Cancer Centre and Belgium's Iridium Netwerk. "The user meetings are a fundamental part of Sun Nuclear's requirements-gathering conversation, with an agenda to promote radiotherapy QA best practice through the SunCHECK platform," explains Fleet.
In a related international development, Sun Nuclear has also established a Latin American SunCHECK Users group. The goal here is to encourage clinical collaboration and best practice in radiotherapy QA via regional SunCHECK meetings and related initiatives. Current SunCHECK sites in Latin America include VITTA Centro Avancado Radioterapia (Brazil), São Camilo Oncologia (Brazil), GRAACC (Brazil) and CEMENER (Argentina), with several more customers set to join the initiative later this year.
More broadly, SunCHECK demonstrations and clinical outcomes will be featured at the upcoming ASTRO annual meeting in the US, as well as the European Congress of Medical Physics in Dublin, Ireland, and the Annual Conference of the German Society of Medical Physics (DGMP) in Aachen, Germany. In each case, Sun Nuclear associates will be available to provide details on the SaaS option.
This article was originally published in Physics World. See it here.
---
Read more articles like this from our monthly newsletter.