When using motion management techniques for delivery of radiotherapy, appropriate QA tools are needed to ensure safe and effective treatment. The Enhanced Dynamic Platform enables movement of compatible phantoms with sub-millimeter accuracy and reproducibility, easing QA and boosting clinical confidence for advanced tumor treatments.
---
The Enhanced Dynamic Platform builds upon the CIRS Dynamic Platform, with sub-millimeter accuracy for 3D Motion QA of systems that perform tumor tracking and gating. It allows for precisely controlled inferior-superior motion and features the ability to create an inclined plane for compatible phantom motion in the posterior-anterior direction.

---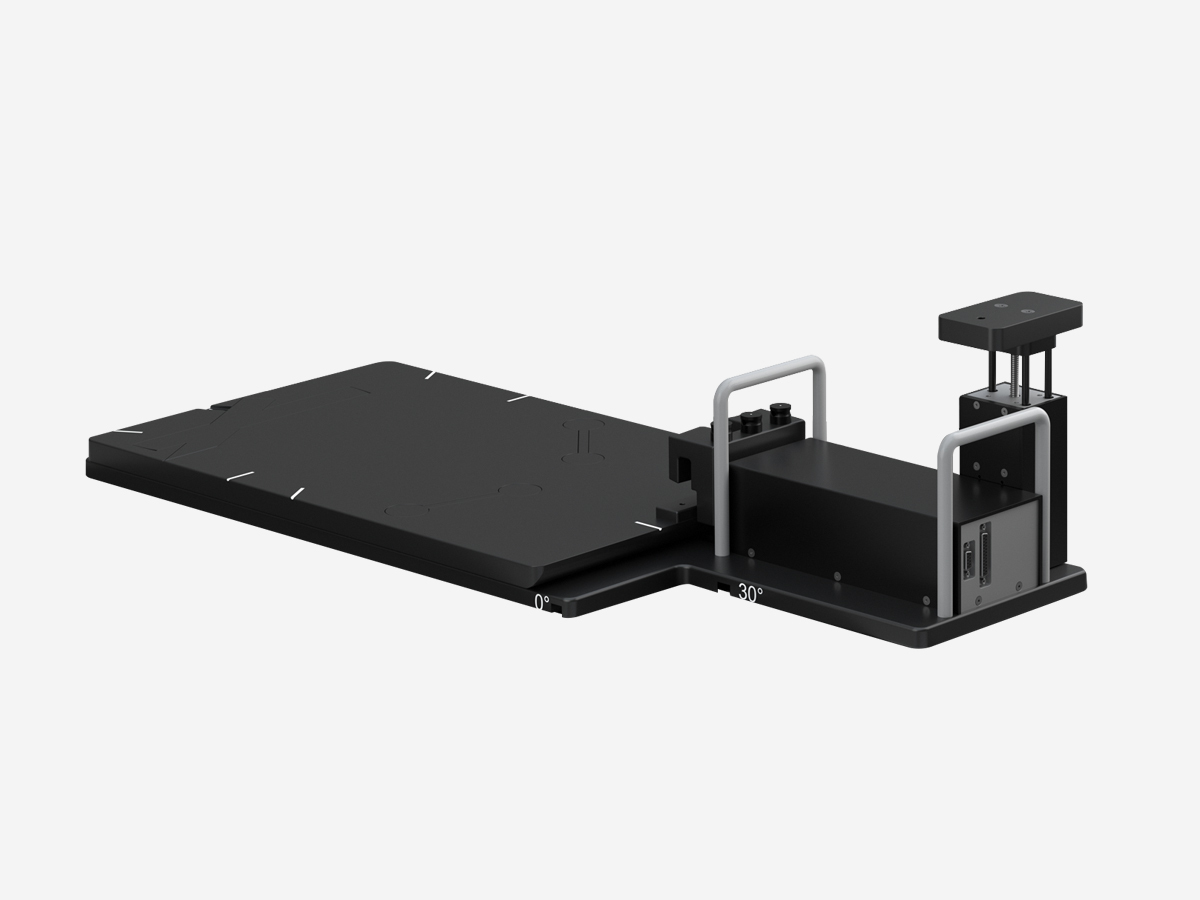 Setup Options
Easily set up for 1D, 2D or 3D motion QA, including:
Inferior-superior motion up to +/- 25mm (50 mm total) for applicable phantoms up to 70 lb.
An 11.3° inclined plane provides +/- 5.0 mm (10 mm total) of motion in posterior-anterior direction (for applicable phantoms up to 50 lb.)
30° rotation about the linac couch provides +/- 12.5 mm (25 mm total) of lateral motion
Surrogate platform simulates posterior-anterior chest wall motion of +/-25mm (50mm total)
---
Phantom & Software Integration
The Enhanced Dynamic Platform integrates with the Sun Nuclear Tomo-Phantom HE ("Cheese Phantom"), supporting the Accuray acceptance tests procedure (ATP), as handled by the legacy Dynamic Platform.
CIRS Motion Control Software enables different cycles, amplitudes, and waveforms – as well as the import of patient-specific respiratory waveforms.
---

Downloads
---
Device Specifications

Dimensions (cm)

92.8(L) x 37.5(W) x 27.5(H) (for all motions at home position)

Weight (kg)

18.4

Position Accuracy (mm)

Position Accuracy ( -/+0.25 mm)

Maximum Amplitude Inf/Sup (mm)

+/- 25.0 (50 total)

Maximum Amplitude Lateral (mm)

+/- 12.5 (25 total)

Maximum Amplitude Pos/Ant (mm)

+/- 5.0 (10 total)

Maximum Amplitude Surrogate (mm)

+/- 25.0 (50 total)

Editable Built-In Waveforms

sin(t), 1-2cos4(t), 1-2cos6(t), sawtooth, sharkfin

Power

110-250 VAC, 50/60 Hz

More

Less