Accurately converting CT values to HU or electron density values plays an important role in transitioning from diagnosis to a specific treatment protocol. With the Advanced Electron Density Phantom, ICRU-44 matched tissue equivalence, automation and smart design all serve to remove uncertainties from your energy conversions.
---
Automated CT-to-Density Analysis
Patented rod markers uniquely identify each material in a CT scan and automatically generate CT-to-density tables with capabilities in the RapidCHECK™ software. Rod markers eliminate the risk of misplaced rods, rotated phantoms, or incorrect selection of ROIs — further fool-proofing this analysis.
Sized for Wide-Beam Applications
A larger phantom body diameter supports evaluation of cone-beam CT and fan-beam CT scanners, with a removable section to support head and small body protocols.
Superior Tissue Equivalence
Phantom base and rods meet medical standards ICRU-44 and ICRP for human tissue densities, giving users additional assurance that the calculation of energy to be put into the patient is highly precise.
Compatible with Any Ion Chamber
The Advanced Electron Density Phantom is compatible with any ion chamber. Upon ordering, please specify which ion chamber you intend to use.
---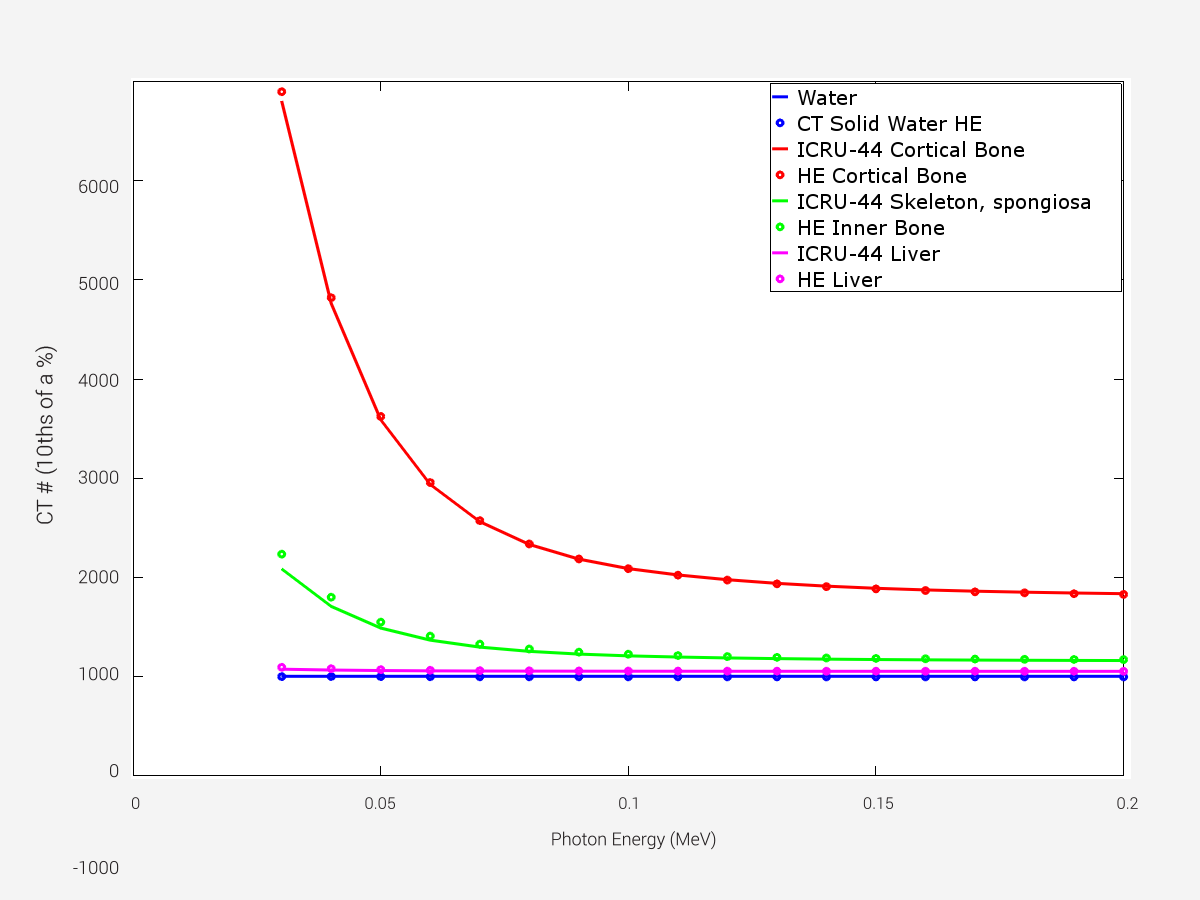 Highly Accurate CT-to-Density Conversion
Rods within the Advanced Electron Density Phantom mimic water, cortical bone, inner bone, and liver at a high equivalency to medical standards (ICRU-44 and ICRP) for human tissue densities, offering confidence that CT values will be optimally converted to treatment energy values.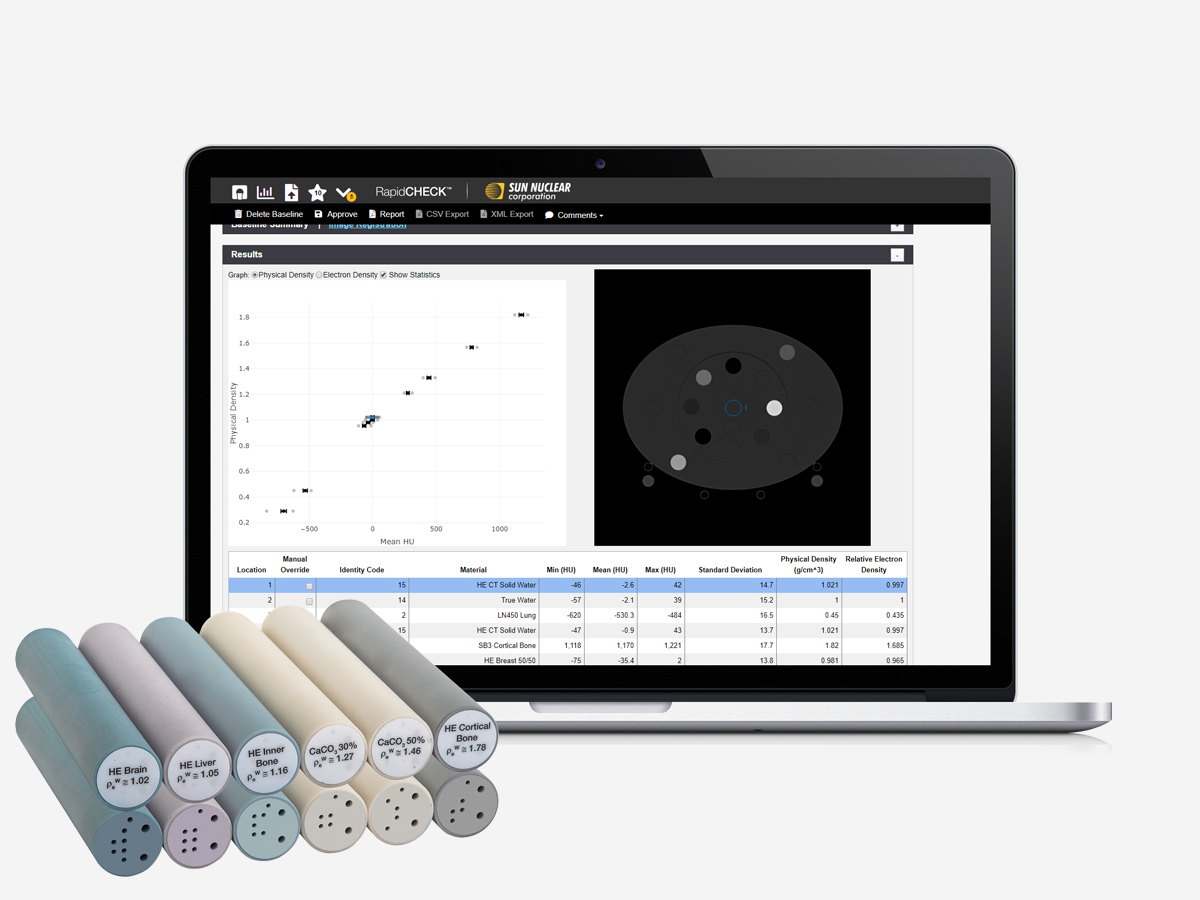 Analysis Automation
RapidCHECK software automatically identifies the rods in the CT scan and converts the values. Software image registration further removes human errors by uncovering any discrepancies in the phantom's position (e.g., rotated or translated head, head rotated relative to the body).
Once completed, easily export results to CSV or Excel.
---
See how easy it is to automate CT-to-density table creation.
---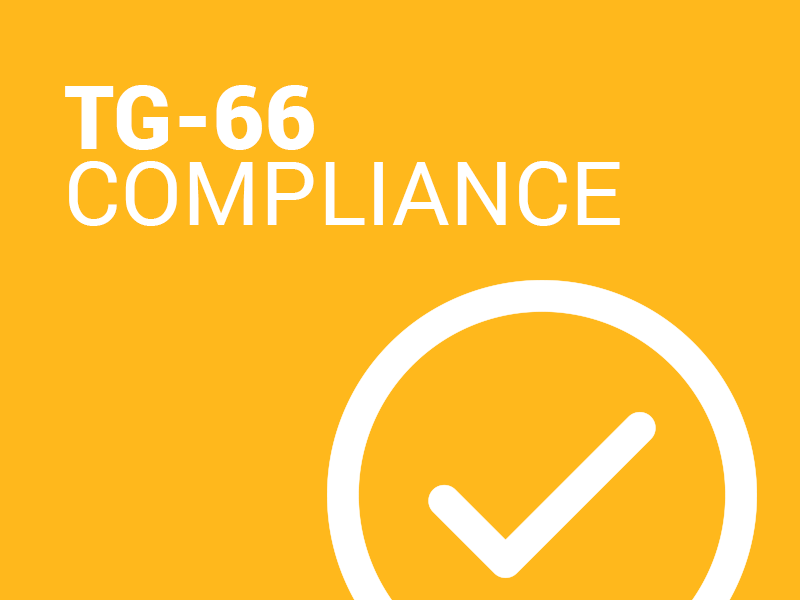 TG-66 Compliance
The Advanced Electron Density Phantom supports AAPM Task Group-66 recommendations to check CT number accuracy at least monthly using 4-5 materials, and annually with an electron density phantom.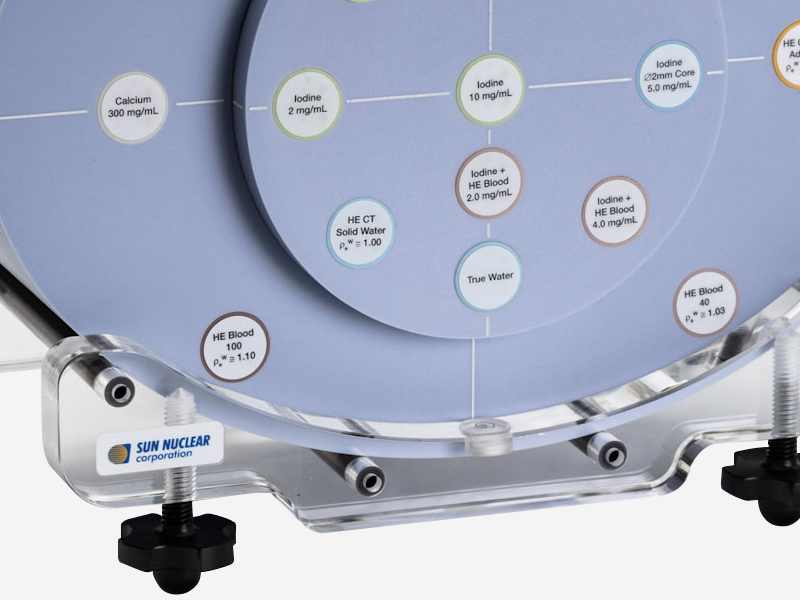 Modular Base
The Solid Water® HE base is compatible with two sets of rods for double duty as TPS calibration as well as multi-energy CT QA.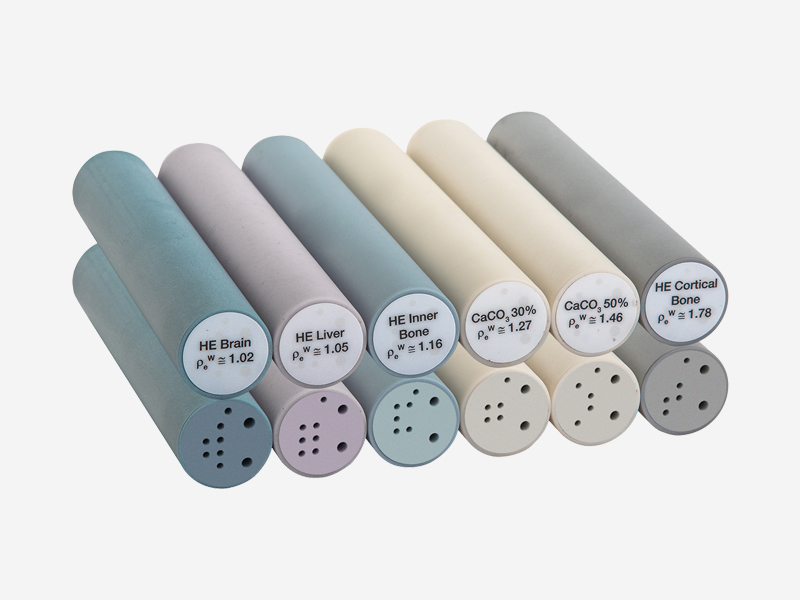 Automation
Patented rods include unique markers for quick identification during a CT scan, and enable automated table completion.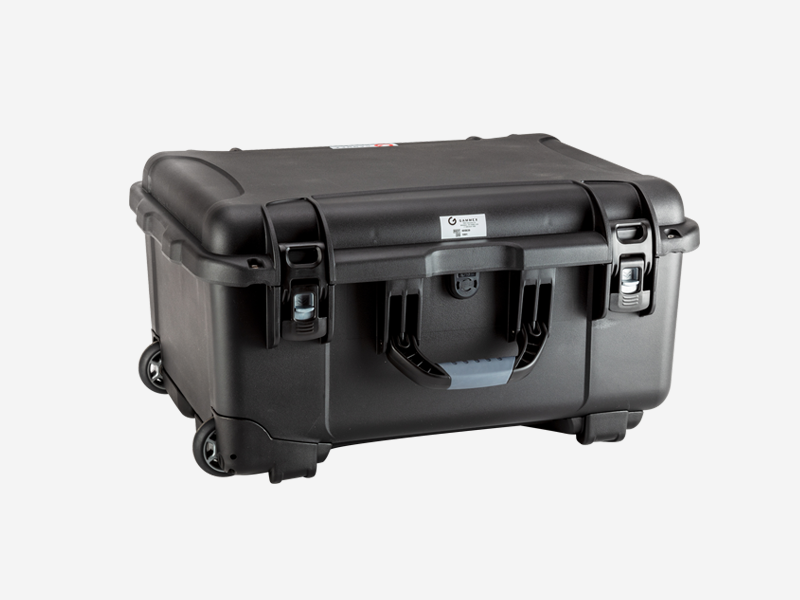 Investment Protection
Ensure your entire fleet of DECT systems remains statistically in control especially after service events.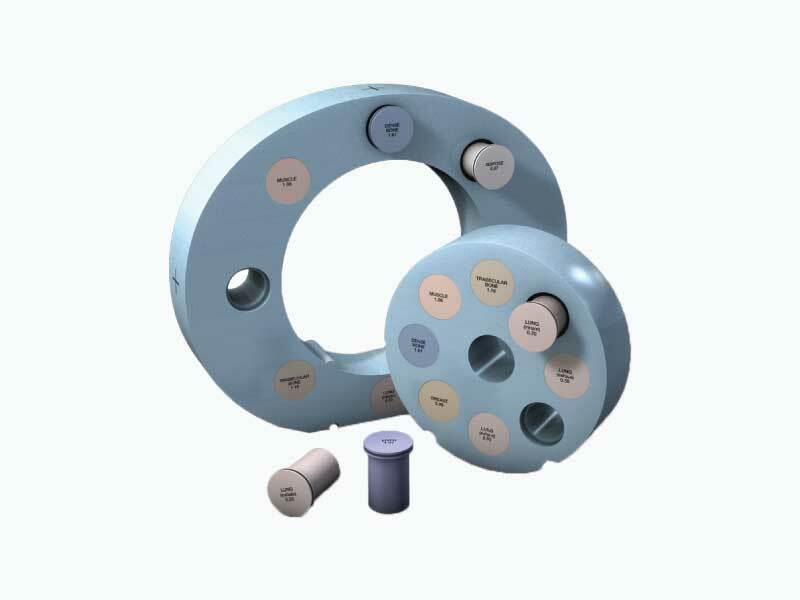 CIRS Electron Density Phantom
The CIRS Electron Density Phantom (Model 062M) is available for departments in need of a basic electron density phantom.
---
We offer a MECT & AED CT Kit for multiuse between CT and RT teams.
---

Clinical / Technical Notes
---
Device Specifications

In-plane Dimensions

40.0 cm (15.7 in) x 30.0 cm (11.8 in)

Depth

16.5 cm (6.3 in), up to 26.5 cm (10.2 in) with optional extension plates

Removable Head Section Diameter

20.0 cm (7.87 in)

Material

HE Energy-Matched CT Solid Water®

Interchangeable Inserts

14 solid inserts plus 2 true water containers

Optional Inserts

Aluminum, Stainless Steel, Titanium

Available Upon Request

Extension plates, Ion Chamber conversion rod

Weight

15.5 kg (34.1 lbs)

Wheeled Case

Included

Stand

Included

Warranty

5 years

More

Less
Standard Inserts

Material

Physical Density (g/cm3)

Electron Density Relative to Water

455 Lung LN-300

0.29

0.28

485 Lung LN-450

0.45

0.44

1553 HE Gen Adipose

0.96

0.94

1454 HE Breast 50:50

0.98

0.97

4 - 1451 HE CT Solid Water® Inserts

1.02

1.00

1481 HE Brain

1.05

1.02

1482 HE Liver

1.08

1.05

1456 HE Inner Bone

1.21

1.16

484 CB2 + 30% CaCO3

1.33

1.27

480 CB2 + 50% CaCO3

1.56

1.46

1450 HE Cortical Bone

1.93

1.78

2 - True Water Inserts

-1.000-

-1.000

More

Less
---