MapCHECK® 3 is the gold standard for IMRT QA requiring large field measurements. It offers the highest detector density, highest sensitivity, and largest field size of 2D arrays. Plus, it's uniquely TG 218-compliant.
---
Built for Pre-Treatment IMRT QA
SunPoint® 2 Diode Detectors placed uniformly throughout the array offer high sensitivity and proven stability in a large active field size (26 cm x 32 cm). A real-time electrometer measures every pulse with 50-millisecond updates.
Easy Comparison Features
Simply import the QA files from your TPS, and let SNC Patient™ software compare dose distribution from the plan file to actual measured values. Measured points outside of acceptance criteria are highlighted for high and low dose.
---
See why MapCHECK 3 is the chosen solution for IMRT QA.
---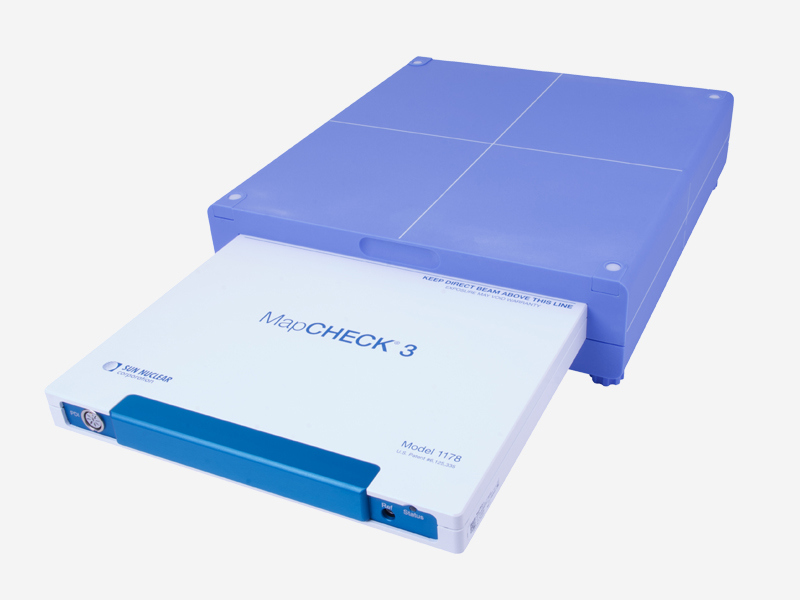 Address Rotational Beams
Use MapCHECK 3 with MapPHAN™, a water equivalent phantom, for RapidArc®, VMAT, and TomoTherapy®. Setup time is fast and measurement can occur in coronal and sagittal orientations.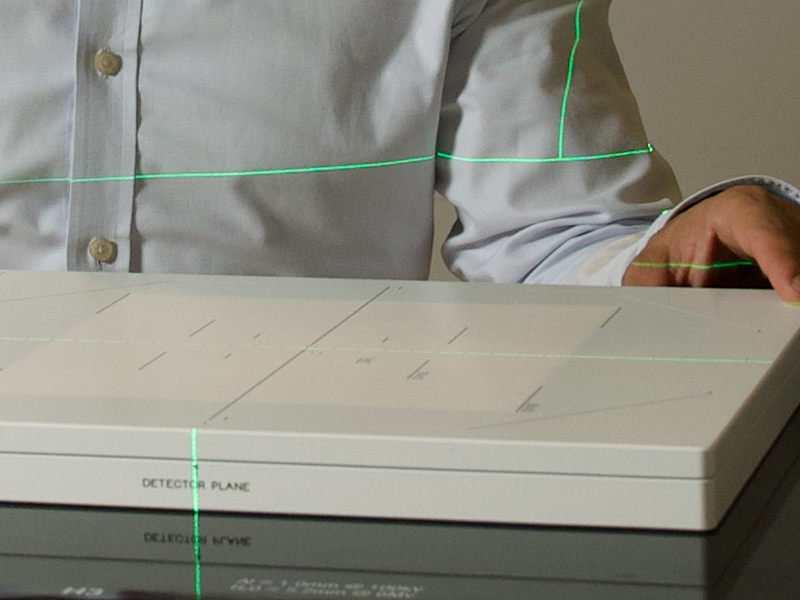 Quick Start Features
Portable and lightweight array with no warm-up or pre-irradiation necessary for use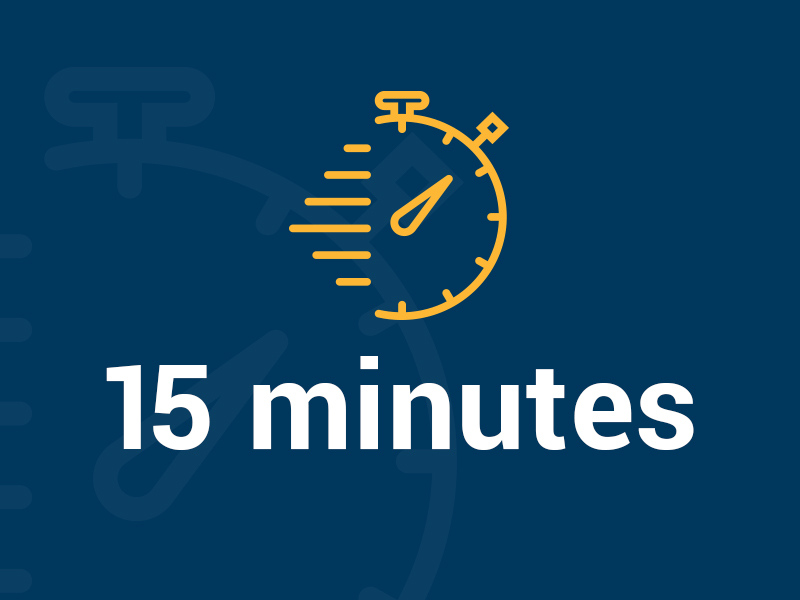 Easy Annual Calibration
Patented Wide Field Calibration step-by-step instructions are included in SNC Patient™ software, for a 15-minute annual calibration.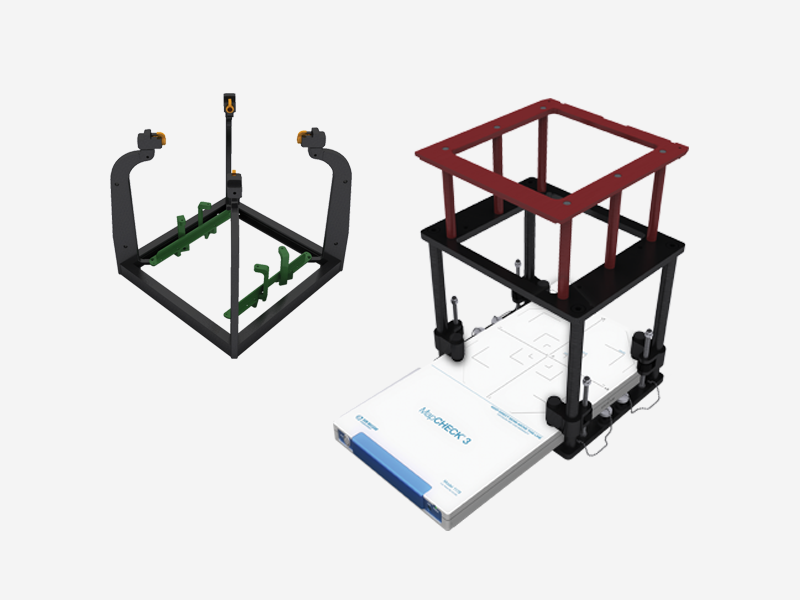 Isocentric Mounting Fixtures
GMF™ and IMF™ Mounting Fixtures mount the MapCHECK 3 to the head of the gantry for quick, reproducible isocentric measurements at any gantry angle.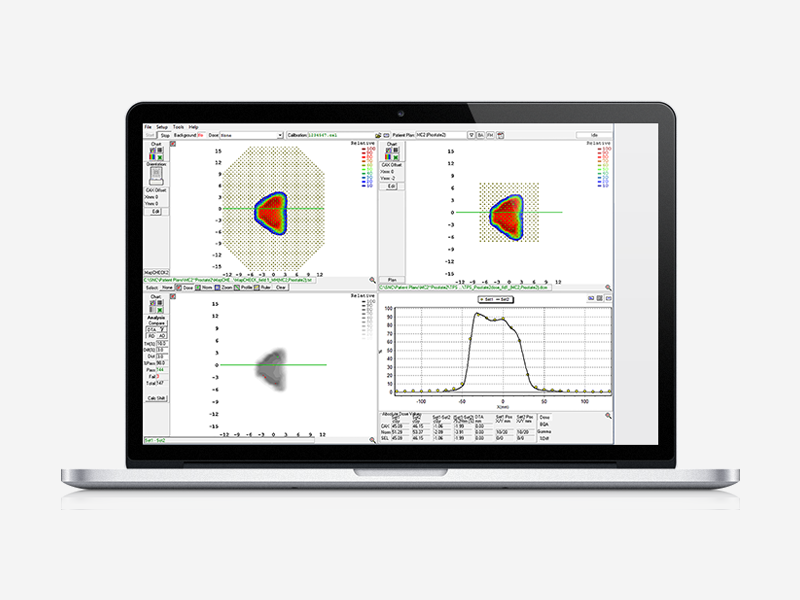 SNC Patient™ Software
Import QA files from TPS, and SNC Patient compares dose distribution of plan file to actual measured values. Points outside acceptance criteria are clearly highlighted.
---

Webinars & Videos

Downloads
---
Device Specifications

Detector Type

SunPoint® 2 Diode Detectors

Detector Quantity

1,527

Field Size (cm)

26 x 32

Detector Spacing (mm)

7.07

Active Detector Area (mm x mm)

0.48 x 0.48

Active Detector Volume (mm3)

0.007

Detector Sensitivity (nC/Gy)

15

Sampling Frequency (ms)

50

Detector Stability

1%/kGy at 6 MV

Dose Rate Dependence

±1.5% over the range of 100 cGy/min to 1400 cGy/min

Inherent Buildup (g/cm2)

1.5

Inherent Backscatter (g/cm2)

2.3

Radiation Measured

Photons: Co-60 to 25 MV

Number of Connection Cables

Single power/data cable

Dimensions (L/W/H)

56.0 cm x 29.2 cm x 3 cm

Weight (kg)

5.6

More

Less
System Requirements (SNC Patient)

| | |
| --- | --- |
| Operating System | Windows 7, Windows 8.1, Windows 10 Professional |
| CPU | Recommended 2.4 GHz or better, multi‑core (2 or more cores) |
| RAM | Recommended 4 GB or more |
| Hard Drive Space | Recommended 5 GB or more |
Compatibility

| | |
| --- | --- |
| Rotational Therapy | RapidArc®, VMAT, TomoHelical™ IMRT, TomoDirect™, 3D Conformal, Dynamic Wedge |
| Treatment Planning Systems | Pinnacle®, Eclipse®,Monaco®, iPlan®, and any TPS system that can export DICOM data |
| Deliveries | FFF & non-FFF |
---