ArcCHECK® is the only detector array specifically designed to identify errors in rotational delivery. It's the ideal solution for: 4D Patient Pre-Treatment QA for IMRT, VMAT, SBRT and MRgRT; including specialty systems such as Varian Medical Systems® Halcyon™ System and Ethos™ Therapy; and Accuray TomoTherapy® and Radixact™ Systems.
---
Powerful Patient-Specific QA
ArcCHECK is recommended by AAPM Task Group 218 for 3D measurement requirements. It measures and correlates gantry angle, leaf-end position, absolute dose and time to identify any potential source of error throughout the patient volume.
Clinically Relevant Dose & DVH QA
Identify TPS and beam delivery errors. With a single click, compare measured dose points to planned dose points. Review individual control points and user-defined full or sub-arc sections for an in-depth overview of pass, low, and high dose results.

MLC Pattern Machine QA
Further leverage your ArcCHECK for Machine QA tests by evaluating discrepancies between the planned and delivered MLC pattern and identifying leaves that may require service.
---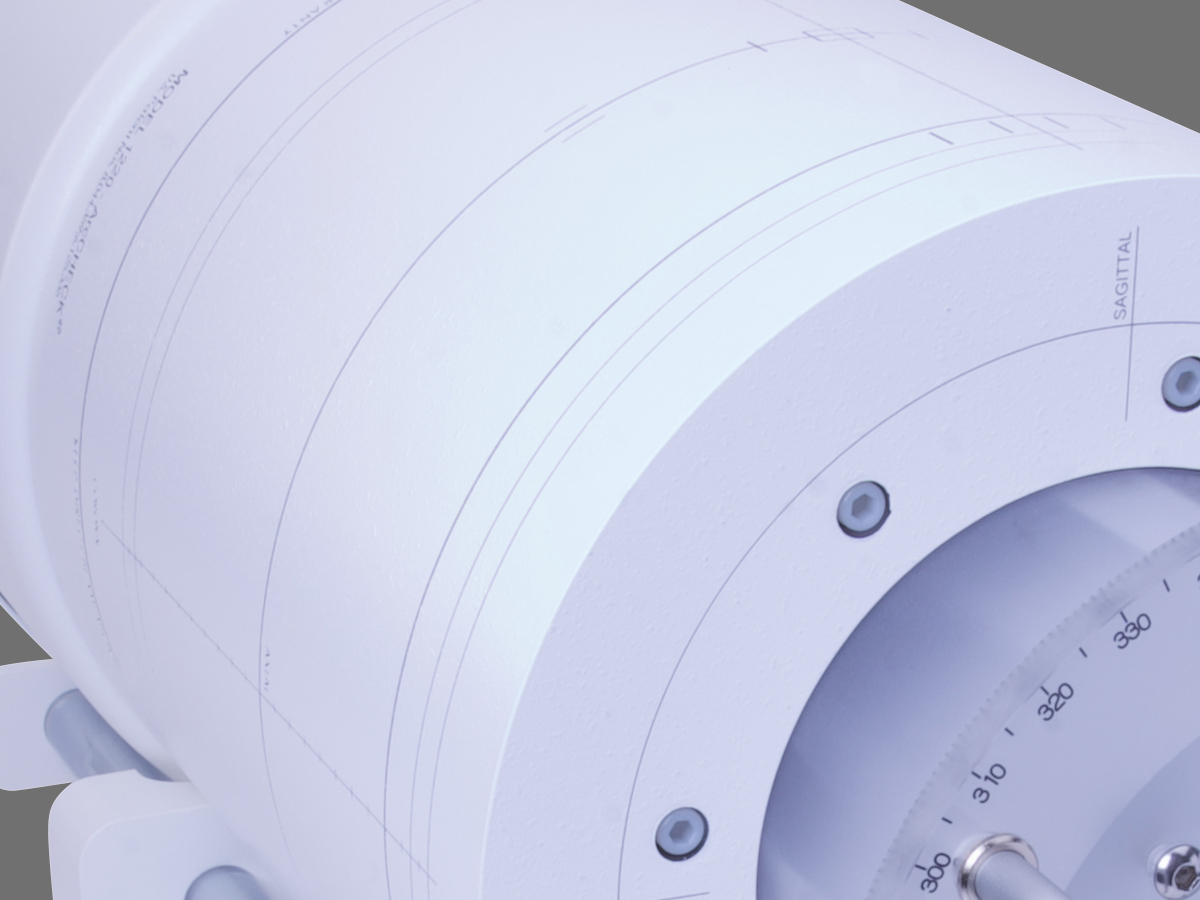 The Gold Standard
ArcCHECK provides true data on plan delivery and insights into potential errors. It owes its widespread adoption to:
A helical detector grid with 1,386 SunPoint® Diode Detectors for increased Beam's Eye View (BEV) data density
Angular corrections accurate to ±0.5° using the Virtual Inclinometer™
Consistent BEV for all gantry angles measuring entrance and exit dose at multiple depths, and indicating potential delivery and TPS modeling errors for high or low dose levels
Real-time electrometer that measures every pulse, as well as composite and sub-arcs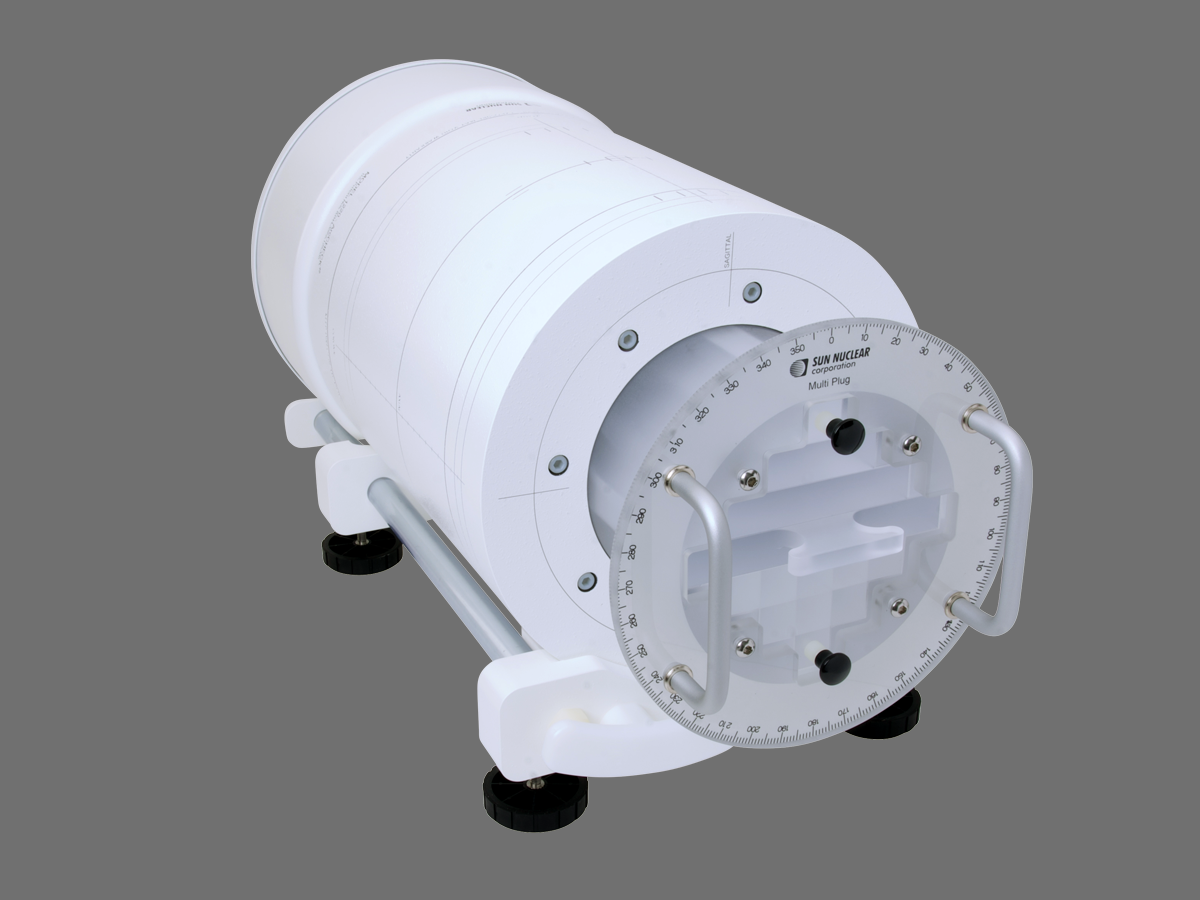 Flexible Interior Dose Measurements for More Stringent QA
Tissue equivalent inserts support heterogeneity tests:

Inserts include: Brain, Breast, Bone, Liver, Lung, Muscle, Adipose, Titanium and Water/Air

MultiPlug™ accepts ion chambers, stereotactic detectors and film for interior point measurement in any of 25 unique locations
CavityPlug™ insert offers simplified isocenter dose measurement, without the film and tissue-equivalent insert features of MultiPlug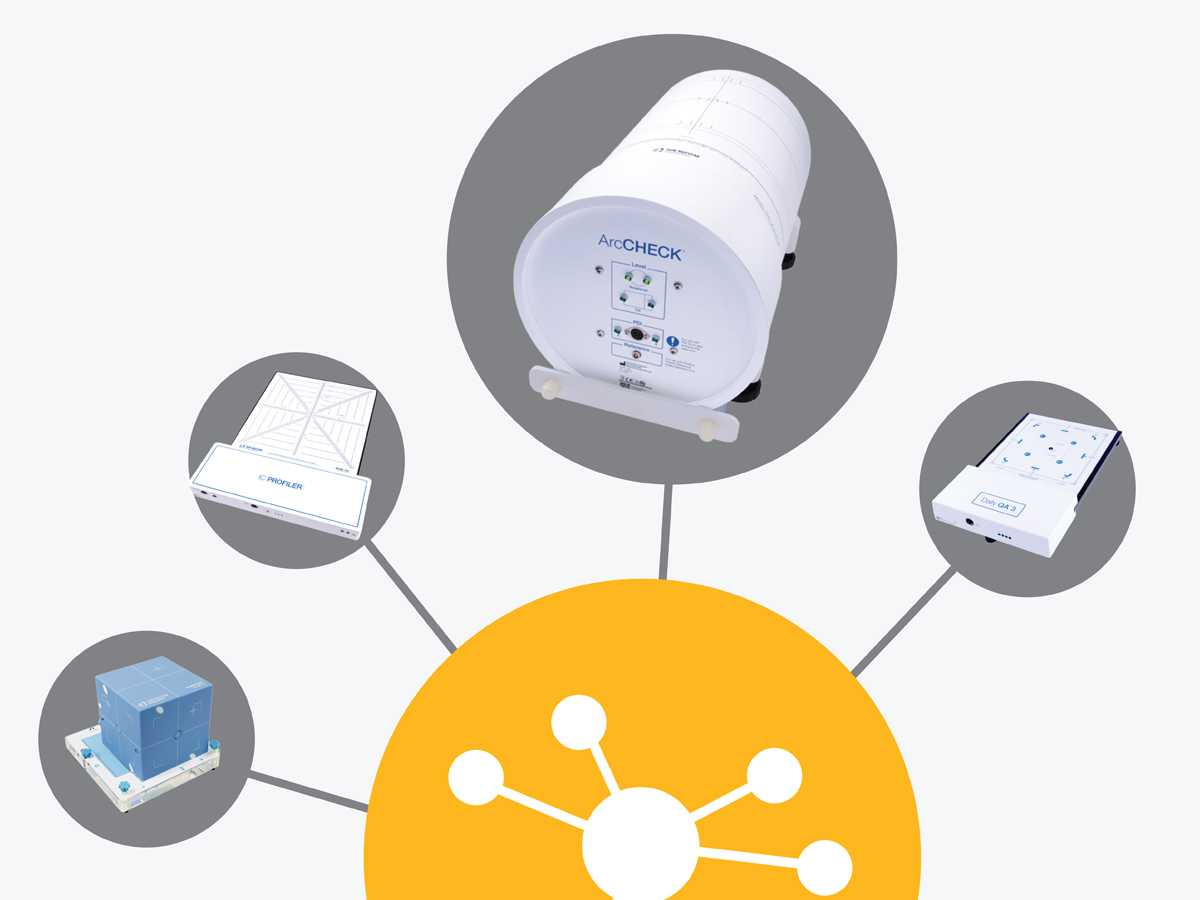 SunCHECK® Integration
With direct connectivity from ArcCHECK to the SunCHECK Platform:
Leverage array-based and advanced phantomless 3D pre-treatment QA with a single platform, for added clinical confidence
Capture and store results, including absolute dose calibration, array calibration data, and measurements for composite results and per beam deliveries
---
ArcCHECK directly connects to SunCHECK for improved root-cause analysis.
---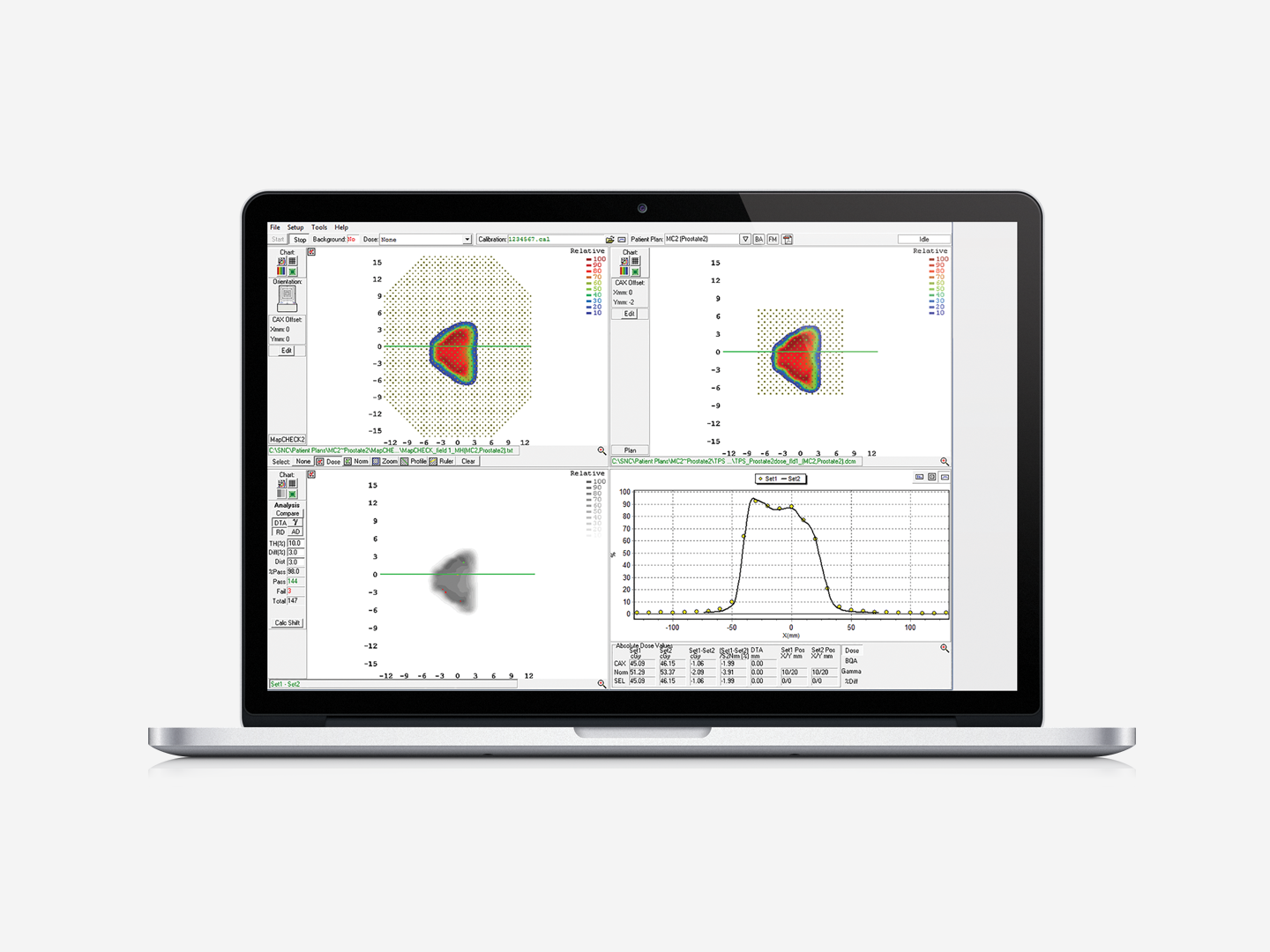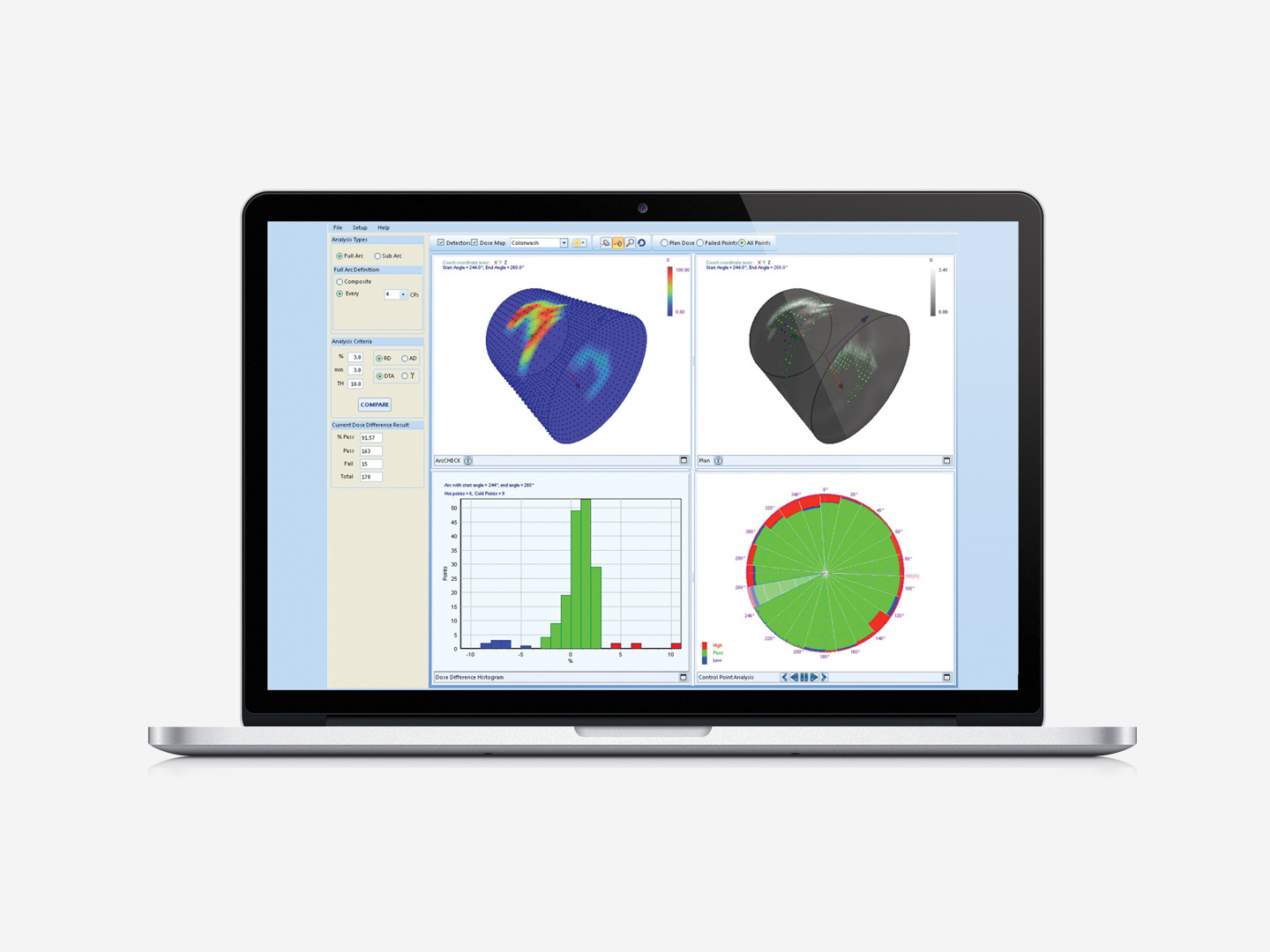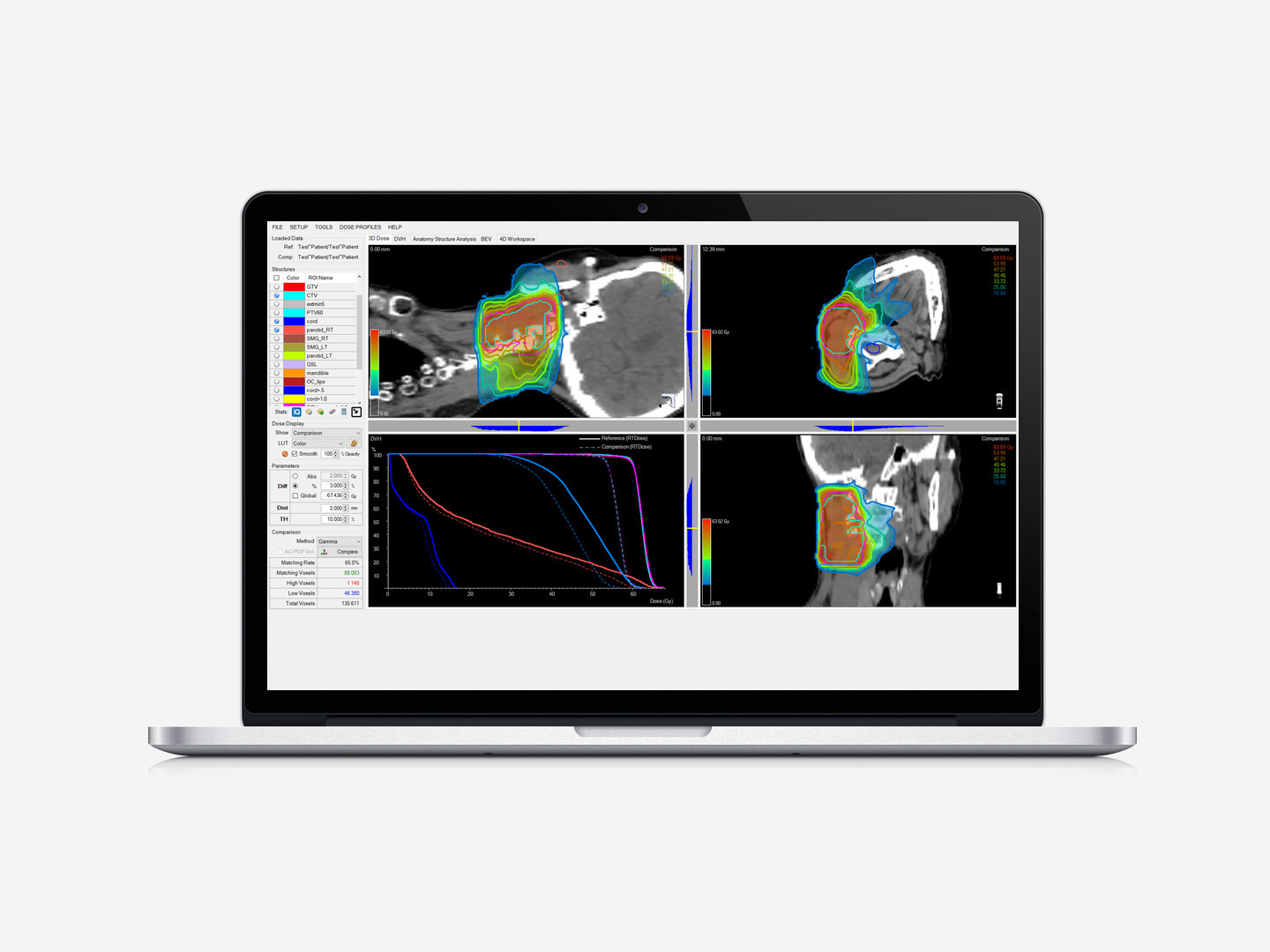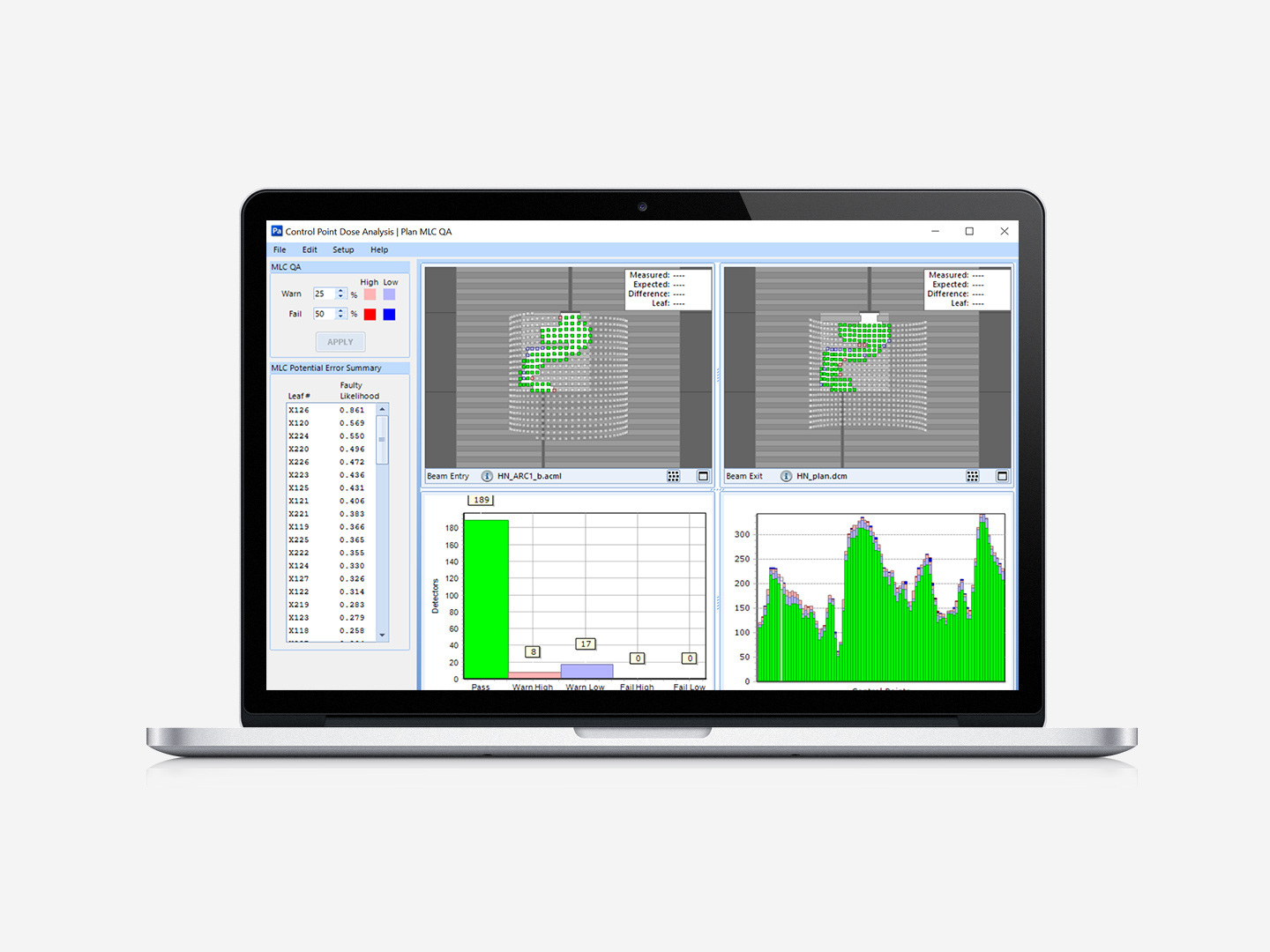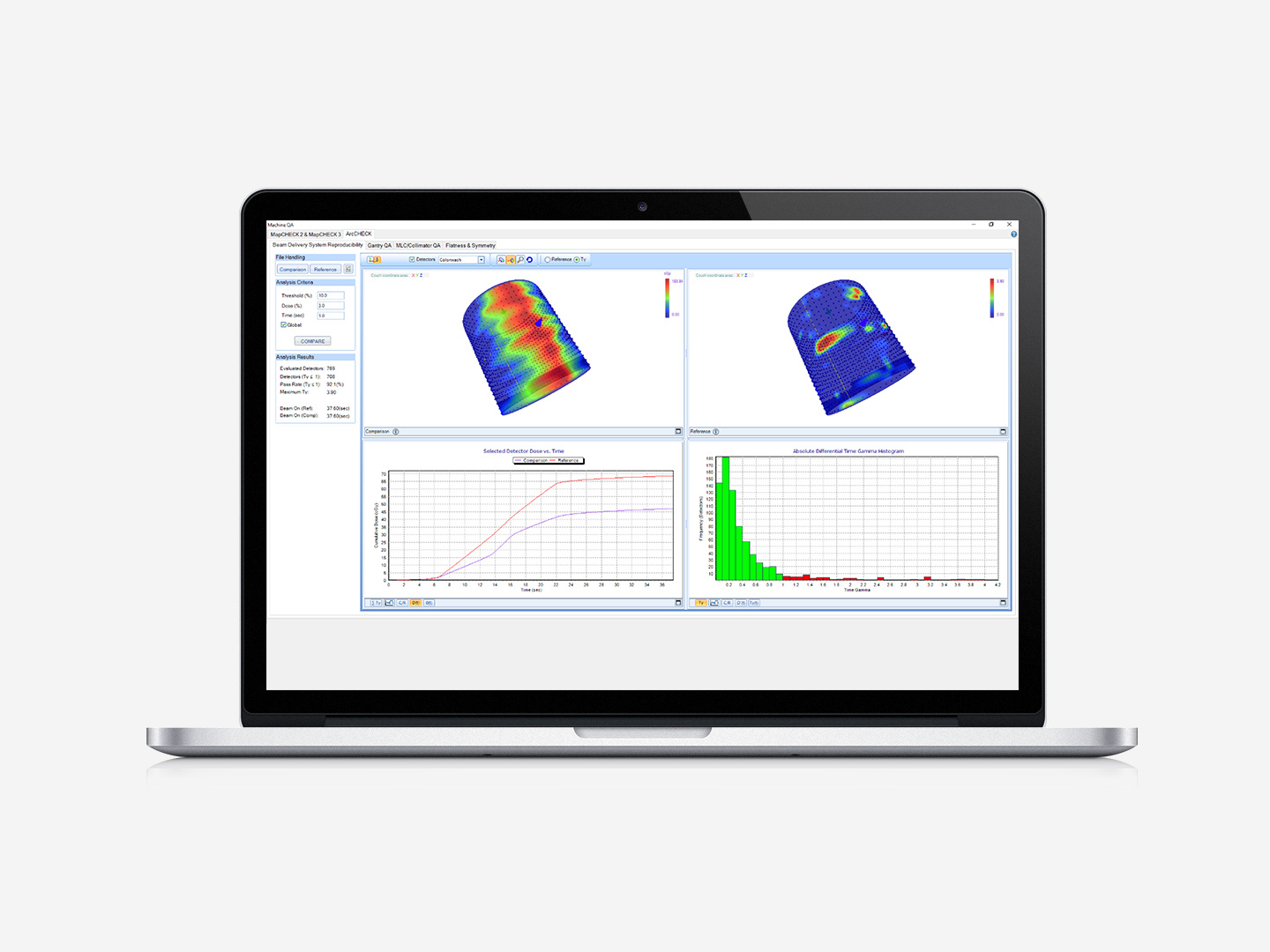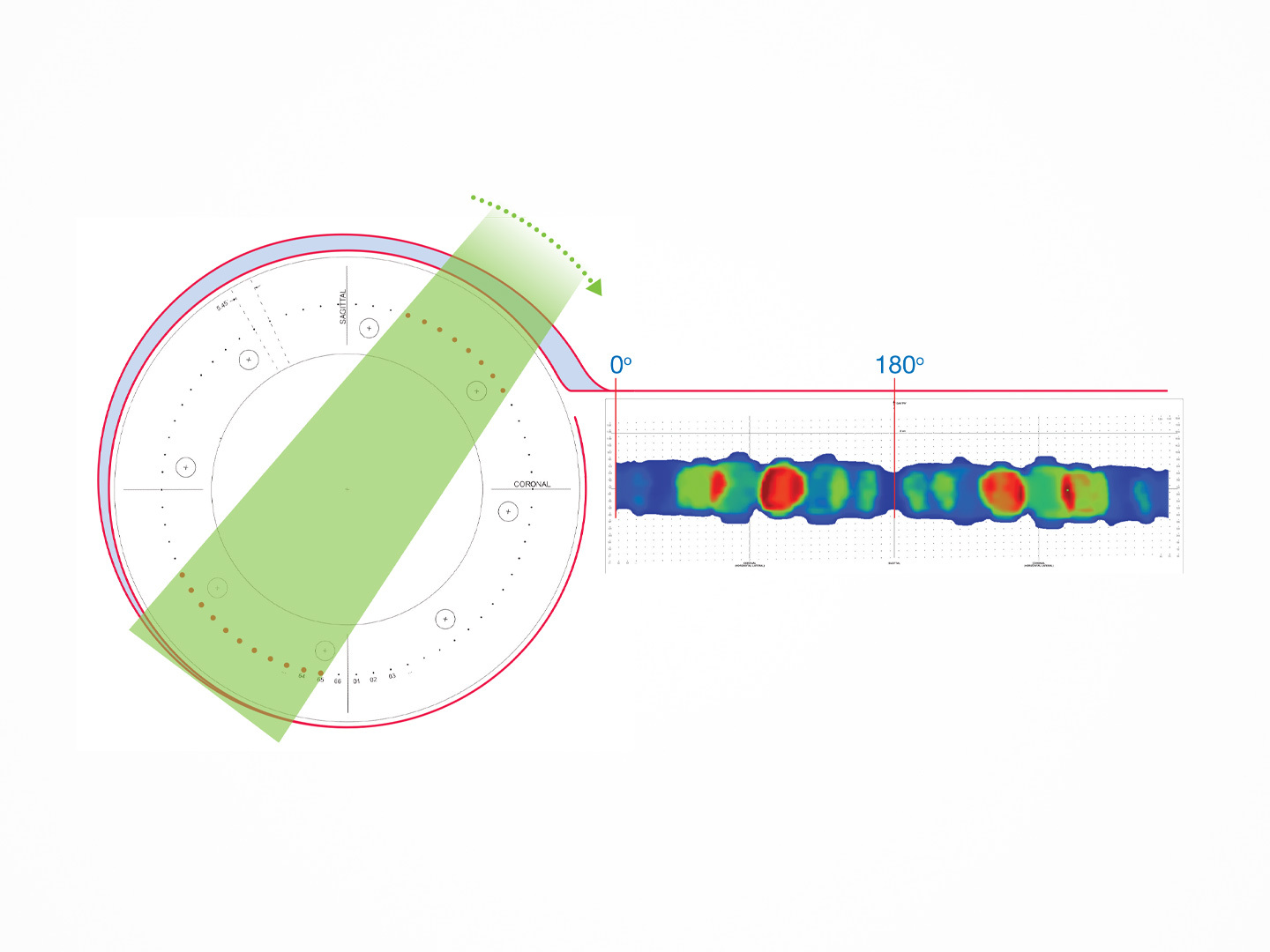 ---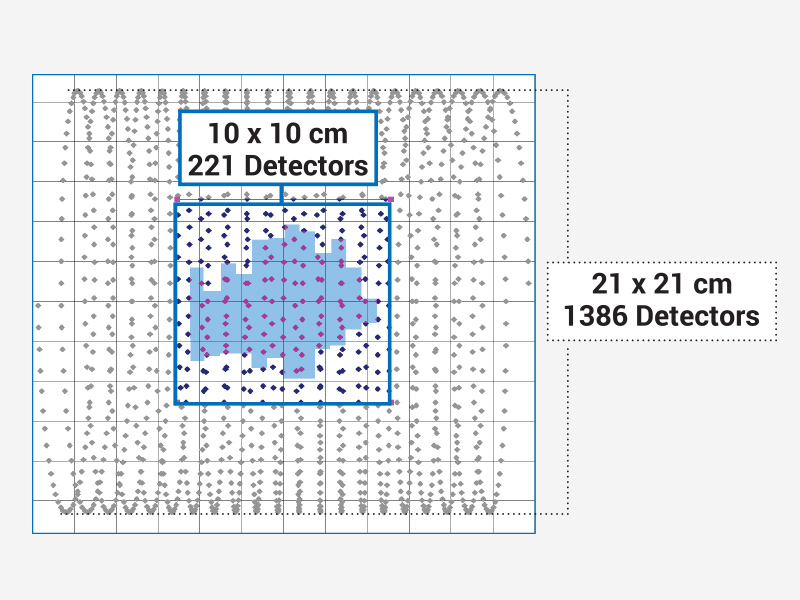 Helical Detector Grid
Helical grid detector arrangement increases the sampling rate and reduces BEV detector overlap and shadowing.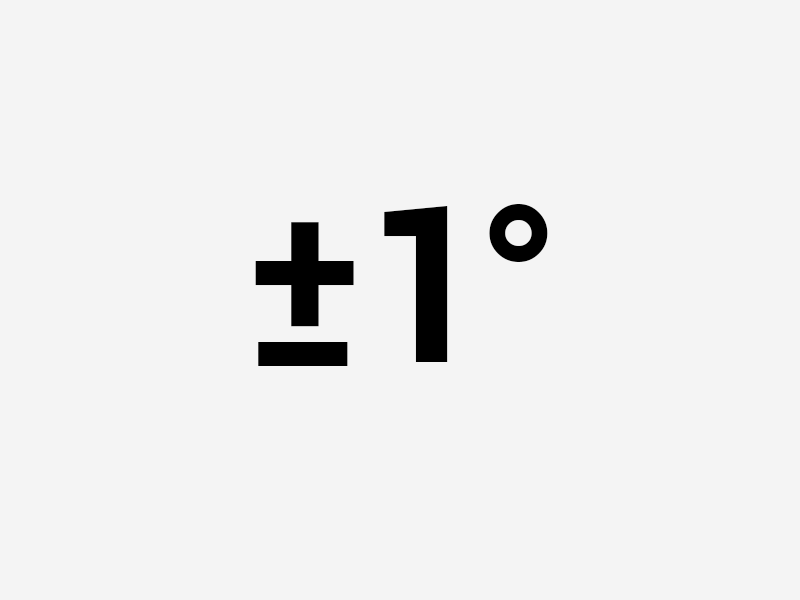 Virtual Inclinometer™
The Virtual Inclinometer calculates gantry angle with an accuracy of ±1° by using entrance and exit dose – no additional cables needed, as with other vendors.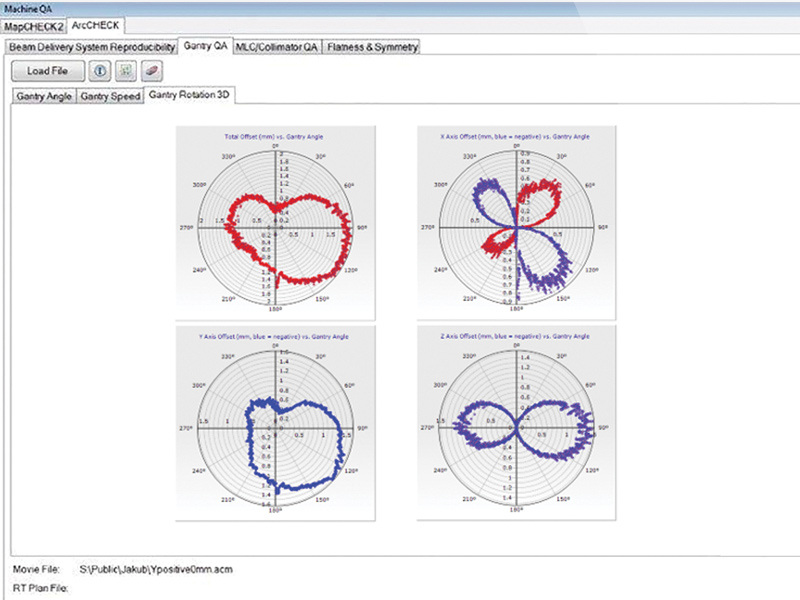 Machine QA Analysis
Additional supported Machine QA tests include dynamic gantry rotation, angle, and speed; symmetry and flatness; MLC QA; and treatment reproducibility QA.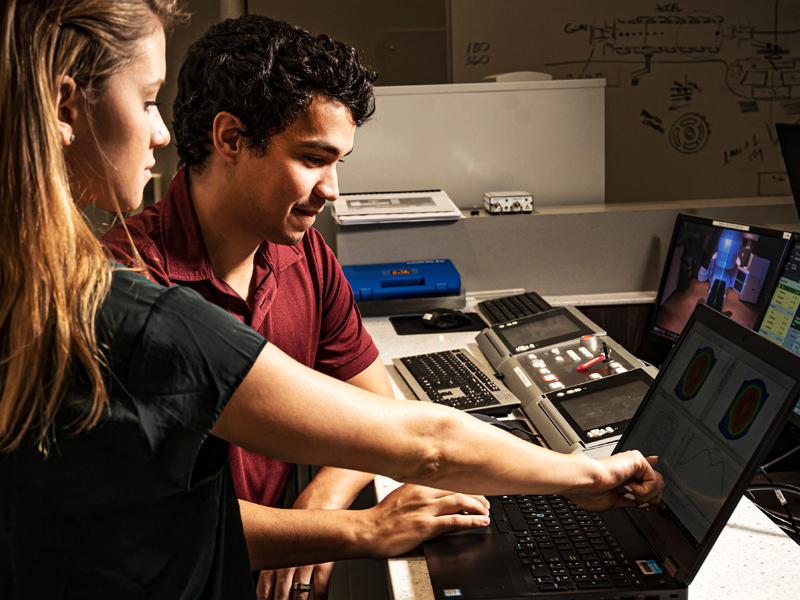 Large and Small Fields
Combine two measurements in SNC Patient software for larger field sizes (up to 36 cm x 21 cm), or use the merge feature to measure to double the density of a measurement, providing 5 mm resolution.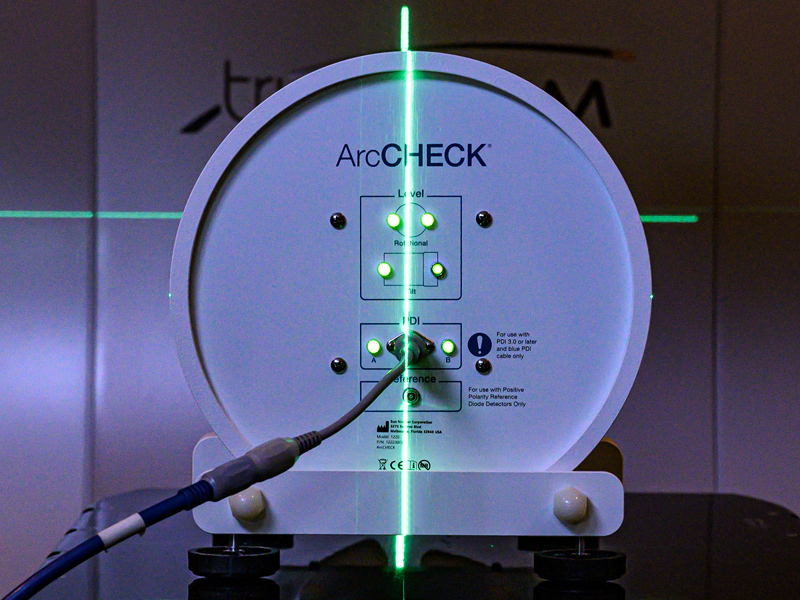 Easy Setup and Transport
Built-in rotation and tilt inclinometers offer a sophisticated yet easy-to-use leveling system. Power Data Interface (PDI) is managed through Sun Nuclear's single-cable architecture.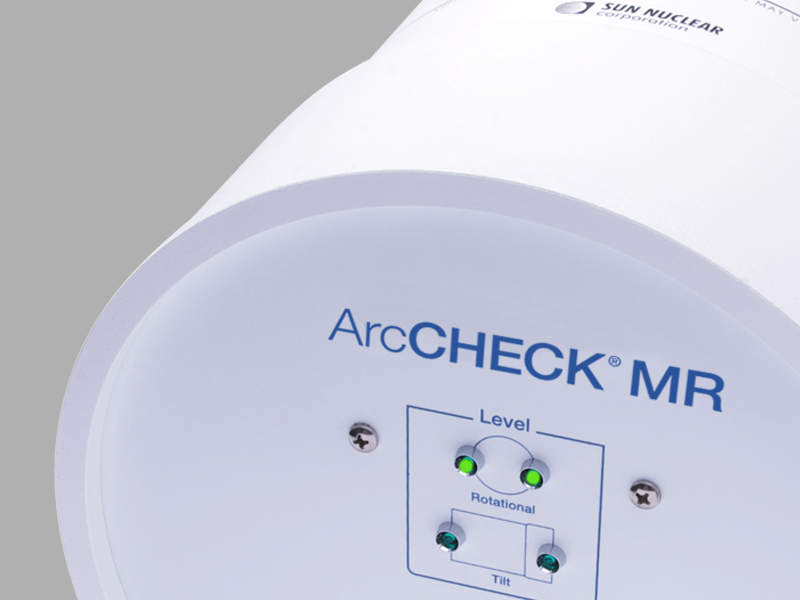 MR Compatibility
An MR-compatible version is available for departments practicing MRgRT.
---
CLINICAL NOTE
When 2D Measurement Isn't Enough
AAPM Task Group-218 recommends 3D measurements that can find errors anywhere in the patient volume and recommends against 2D Perpendicular Composite measurements that don't sample the entire volume — and may mask clinically impactful errors. ArcCHECK meets these requirements for error detection.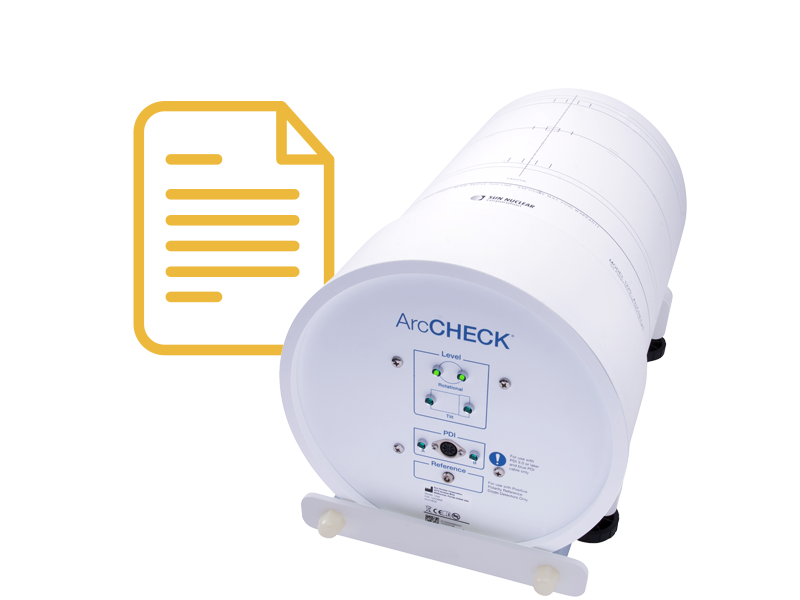 ---
---
Device Specifications

Detector Type

SunPoint® Diode Detectors

Detector Quantity

1,386

Detector Spacing (cm)

1.0, 0.7 cm Beams Eye View, 0.5 cm with Merge feature

Array Diameter (cm)

21.0

Array Diameter (cm)

21.0

Water Equivalent Inherent Buildup (g/cm2)

3.3

Detector Physical Depth (cm)

2.9

Array Geometry

Helical Grid (HeliGrid) 1 cm offset

Phantom Material

PMMA (Acrylic)

Active Detector Area (mm2)

0.64

Detector Sensitivity (nC/Gy)

32.0

Max Dose/Pulse (Gy)

0.003

Detector Stability

0.5% / kGy at 6 MV

Dose Rate Dependence

± 1%

Update Frequency (ms)

50

Number of Connection Cables

Single power/data cable

Dimensions (cm2)

27.0 x 43.0

Weight (kg)

15.4

Transport Option

18-inch wide trolley, designed to slide away after positioning on couch; not MR-compatible

More

Less
Recommended System Specifications (SNC Patient, 3DVH)

| | |
| --- | --- |
| Operating System | Windows 10 Pro 64-bit |
| CPU | Recommended 2.4 GHz or better, multi‑core (2 or more cores) |
| RAM | Recommended 8 GB or more |
| Hard Drive Space | Recommended 5 GB or more |
Compatibility

| | |
| --- | --- |
| FFF | Yes |
| MR | Yes (ArcCHECK-MR®) |
| Varian and Elekta C-arm linacs, Varian Medical Systems® Halcyon™ System , Ethos™ Therapy and Accuray's TomoTherapy® and Radixact™ Systems | Yes |
| SunCHECK | Direct device connectivity within SunCHECK Patient |
Varian Medical Systems® is a registered trademark, and Varian™, Halcyon™, and Ethos™ are trademarks, of Varian Medical Systems, Inc. Sun Nuclear is not affiliated with or sponsored by Varian Medical Systems, Inc.
---