The SIM+ Pro remote-adjustable moveable laser system is designed from the ground up to support your PET/CT simulation workflow. Unmatched precision and accuracy provide enhanced confidence for patient safety while remote adjustment provides extra assurance and ease of use.
---
Accuracy at the Patient
SIM+ Pro offers accuracy at the patient of +/- 0.5 mm. Laser line widths of ≤0.5 mm for all colors, and industry-leading lengths of ≥4 meters at 3 meters, offer precision and flexibility for your workflow.
Automation & Workflow Optimization
Included RapidSIM™ Software allows seamless laser connectivity to the CT simulation package or TPS and is compatible with all major third-party systems. RapidSIM reads coordinates and directs lasers for accurate identification of the patient marking and treatment location.
Meet TG-66 Requirements
SIM+ Pro supports testing as required by AAPM Task Group 66.
---
---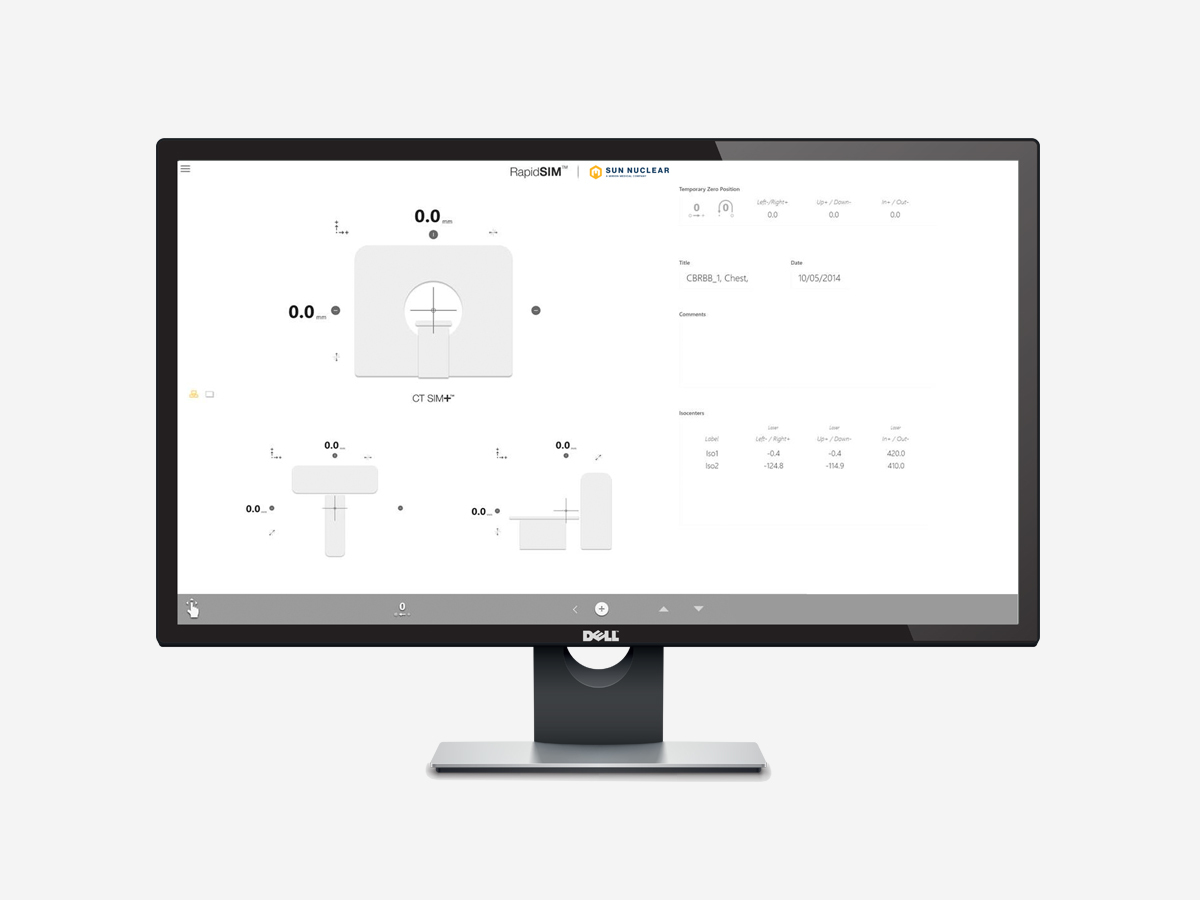 Flexible Levels of Software Automation
RapidSIM supports varying levels of automation based upon your needs:
IsoDRIVE™ mode retrieves TPS coordinates and automatically moves the lasers into position. The IsoLOCK™ feature provides visual confirmation the lasers are at the requested position within 0.5 mm.
DICOM mode allows single point selection, driven by the user.
Manual mode allows the user to manually enter coordinate information.
---
See how SIM+ Pro seamlessly fits into your workflow.
---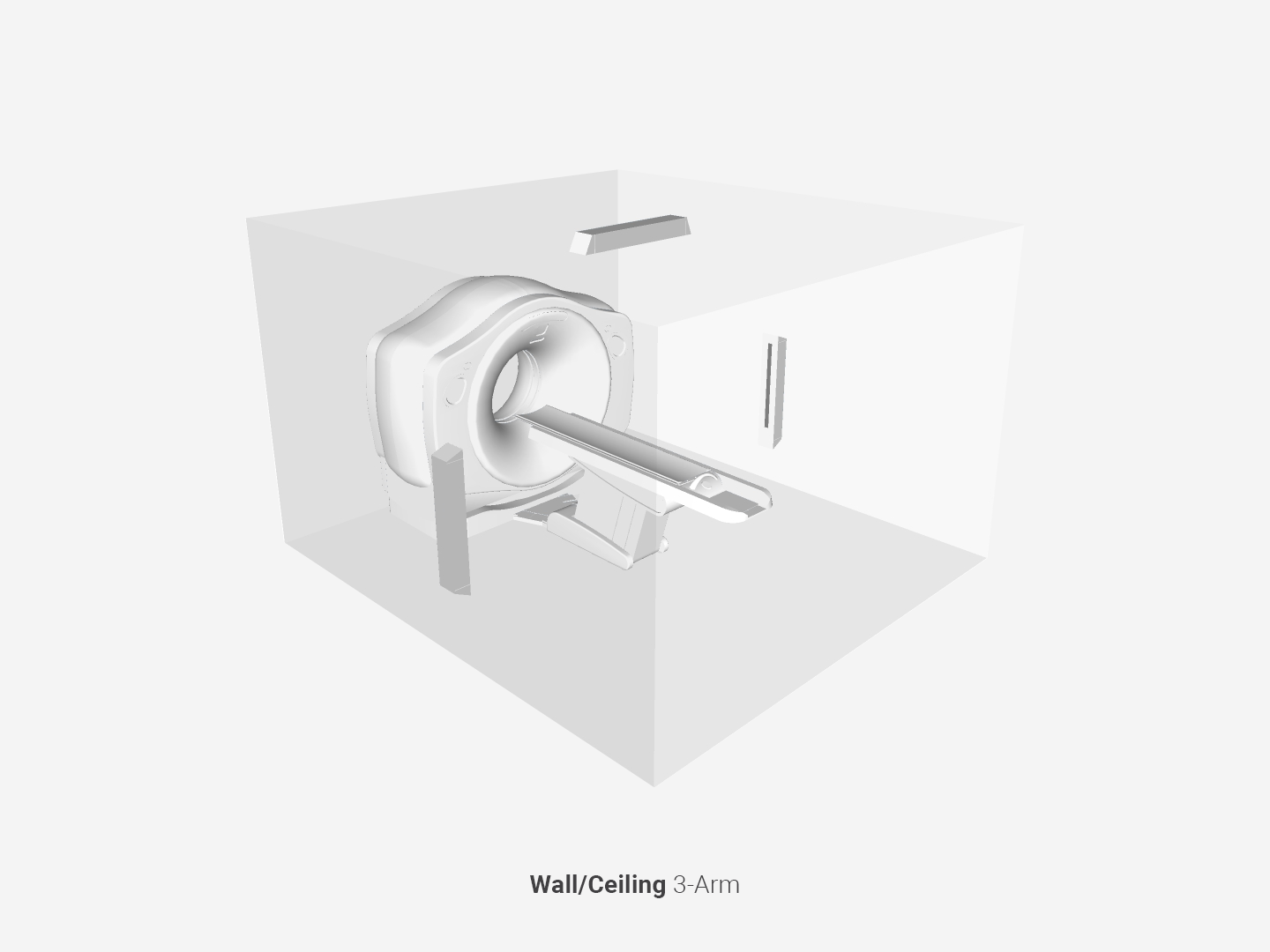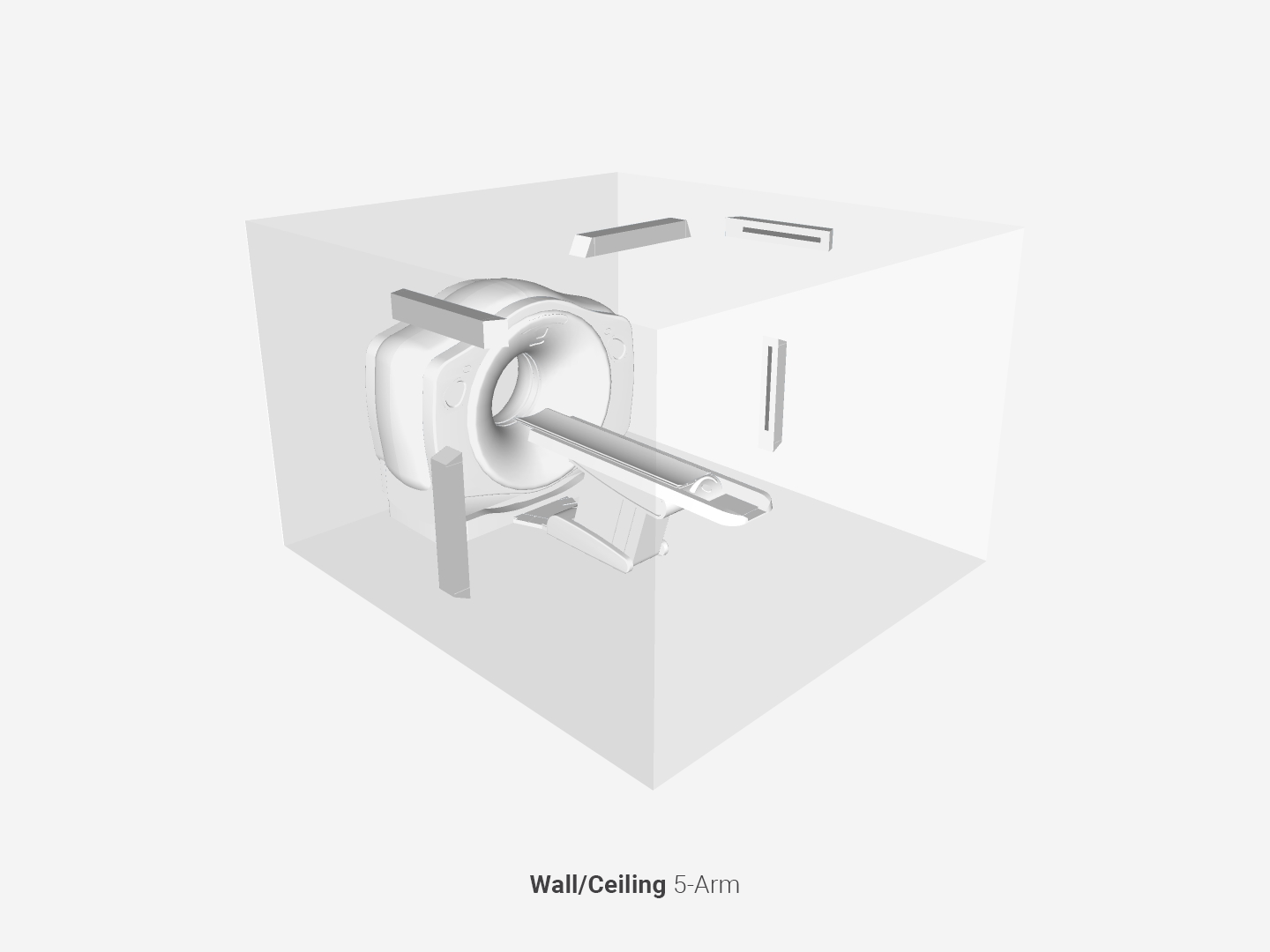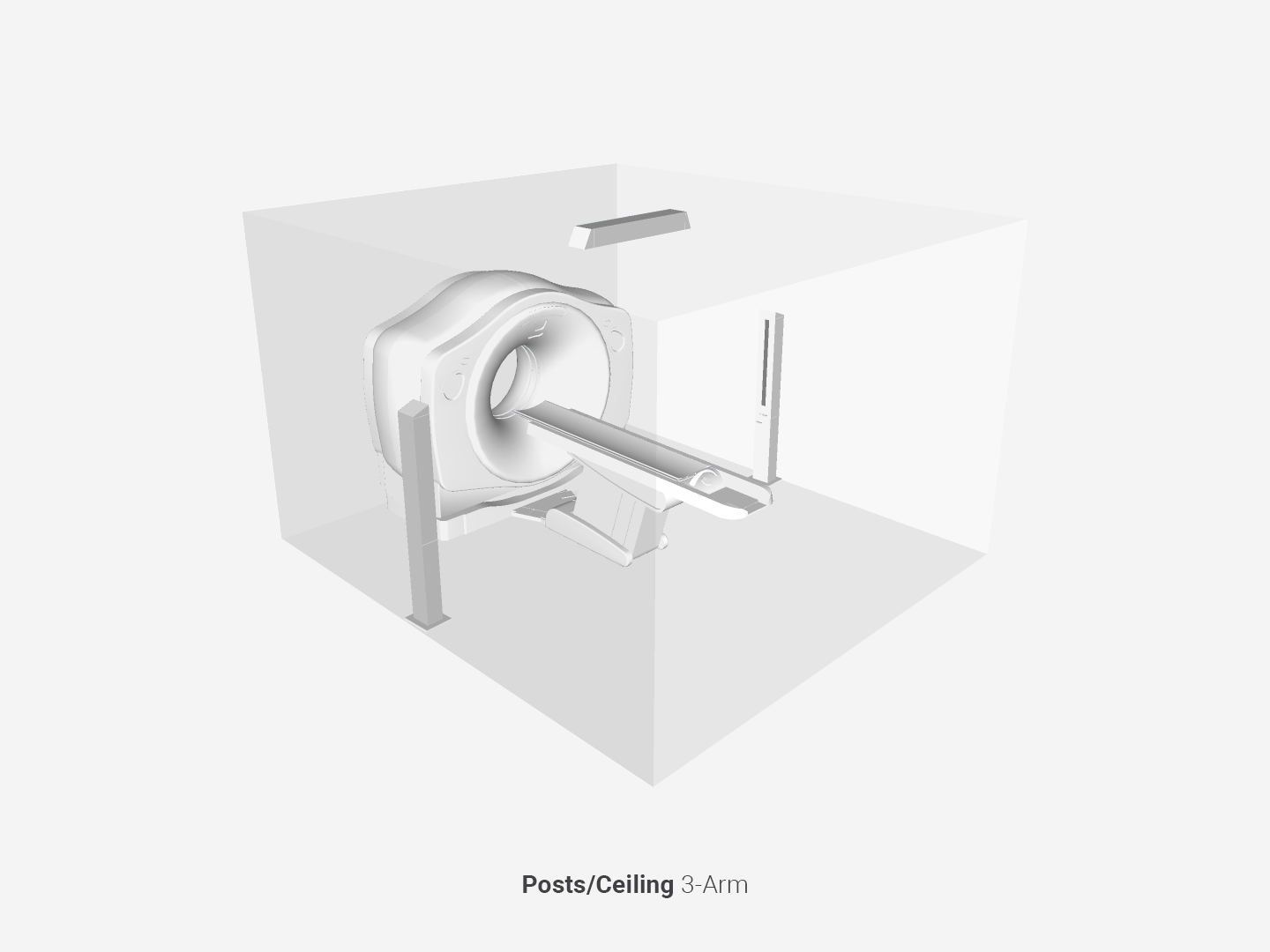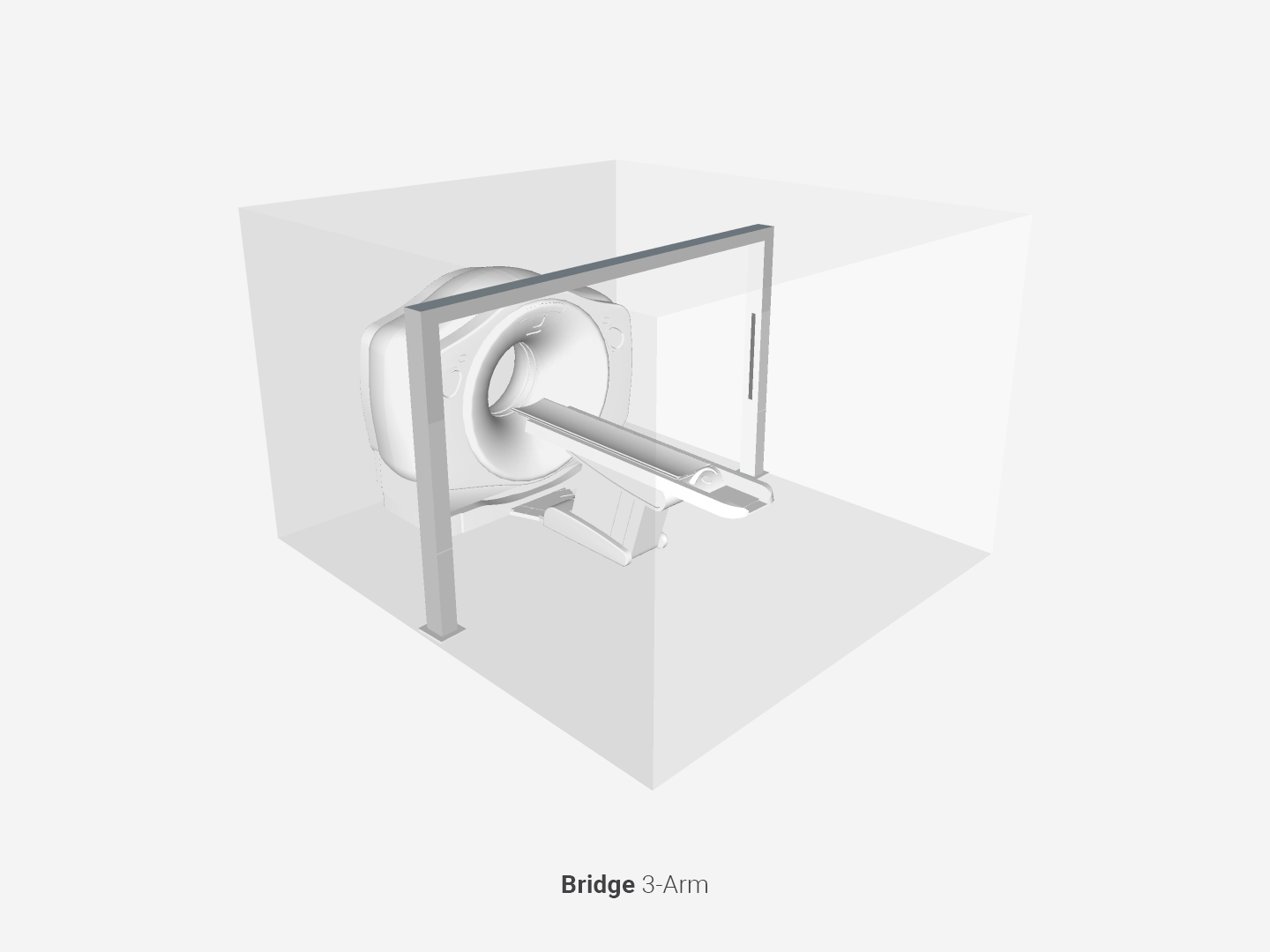 ---
A predictable patient marking workflow is achievable with SIM+ Pro.
---
Bluetooth-Enabled Remote
Enables fine motor changes (coronal, sagittal, transverse, pitch, yaw, roll and focus) for easy workflow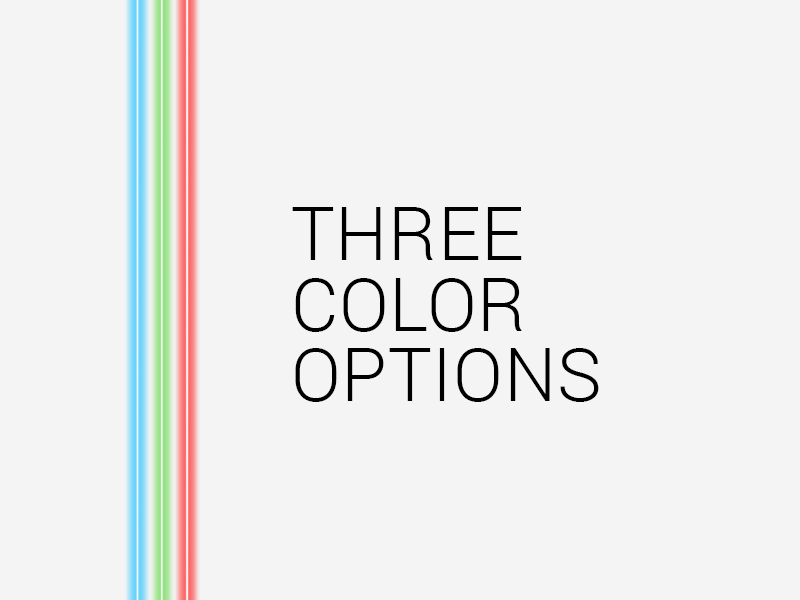 Three Color Options
Red, green, or blue laser wavelengths are available.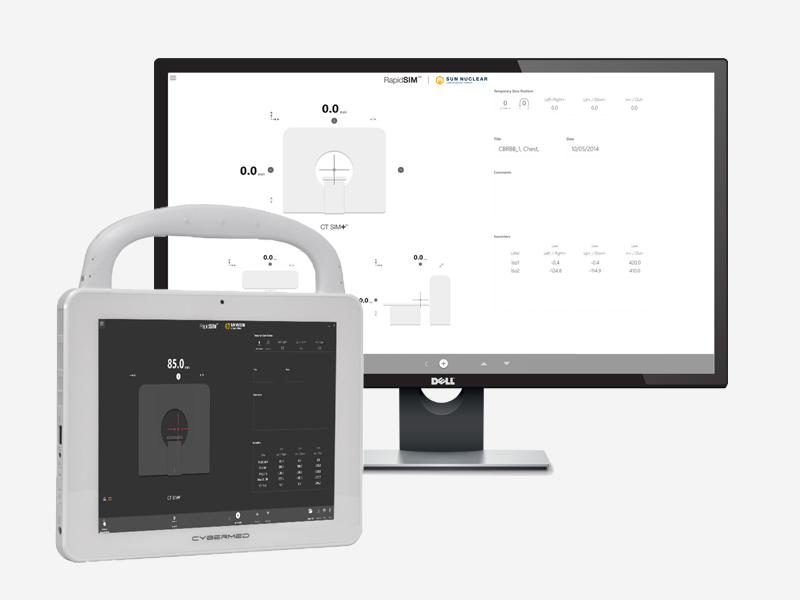 Workflow-Compatible Software
A touchscreen monitor and handheld tablet create redundancy and ease of workflow when moving in and out of the room.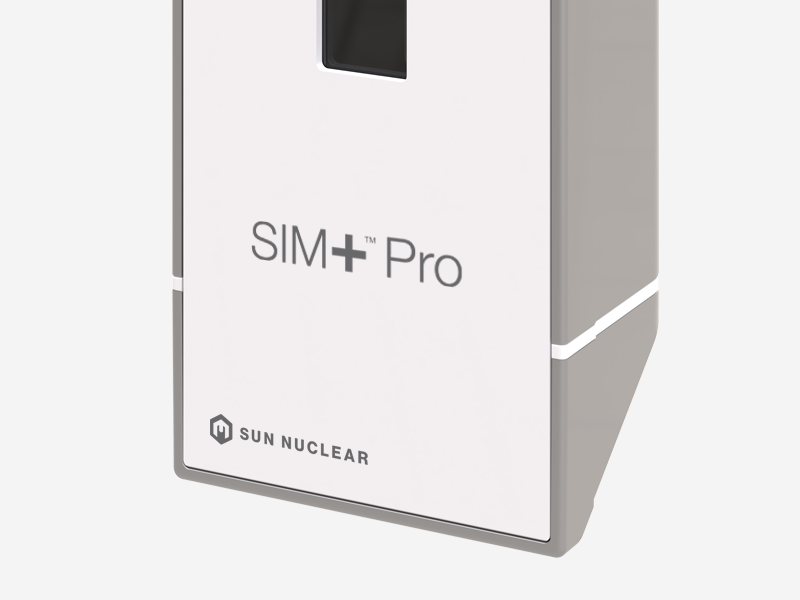 Smart, Reliable Housing
Integrated anti-reflection window and surfaces eliminate refraction or reflections, and reinforced aluminum body enables easy installation and reliability.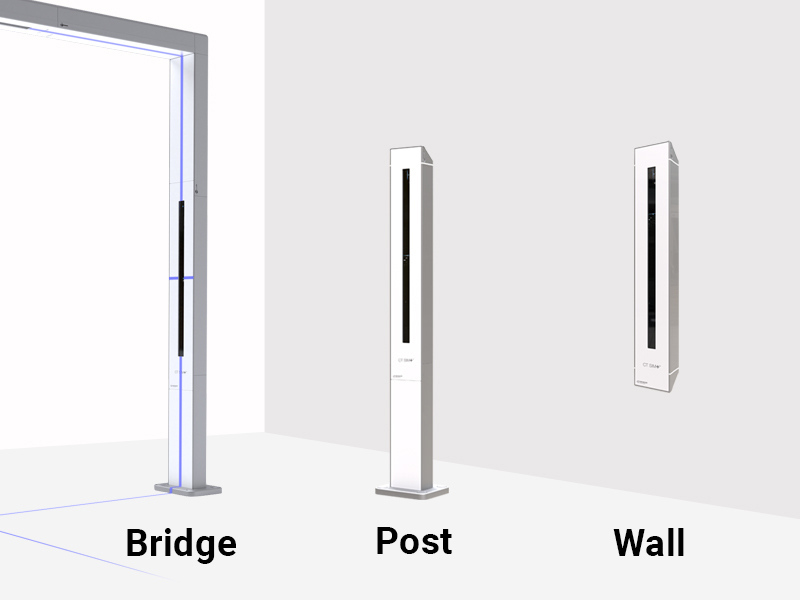 Configuration Flexibility
3-arm or 5-arm configurations are available for wall/ceiling, posts, and bridge, or custom configurations can be accommodated based on room size and layout.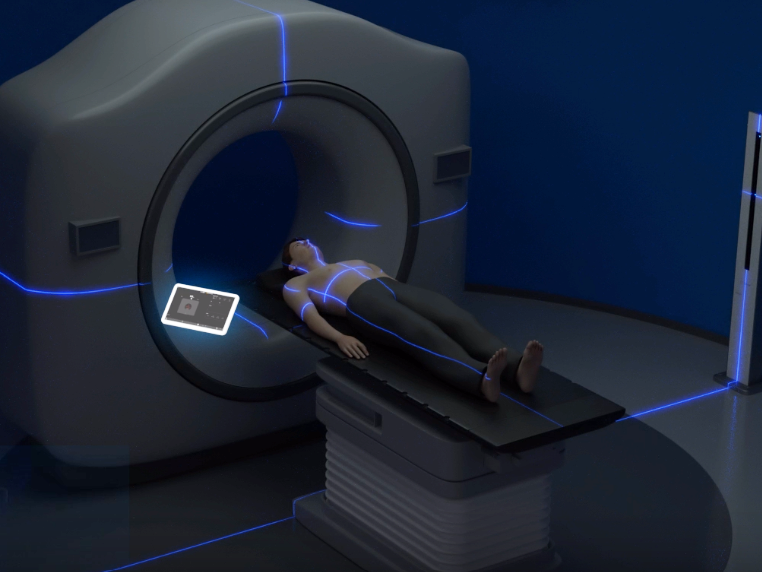 Best-in-Class Specifications
±0.5 mm accuracy, at 3 m
≤0.5 mm line width, at 4 m
≥4 m line length, at 3 m
---
The SIM+ Pro system is not available for sale in all markets. CE mark pending.
---
Looking for CT SIM+? The legacy CT SIM+ is still available in select markets.
---

Clinical / Technical Notes

Webinars & Videos

Downloads
---
Laser System

Dimensions

L x W x H wall/ceiling arm (mm):

Post arm (mm):

1191 x 201 x 119

1770 x 201 x 119

Weight/Mass

Wall/ceiling arm:

Post arm:

45 lbs (21 kg)

77 lbs (35 kg)

Environmental

Operating Temperature (°C):

Operating Humidity:

15 - 30

10 - 95% relative humidity, non-condensing

Power Supply

External Power Supply Box:

Voltage Output to Laser Arm (VDC):

10/240 VAC, 50/60 Hz auto-select

24
Performance

| | |
| --- | --- |
| Travel Range (mm): | 700 |
| Travel Velocity (mm/s): | Up to 200 |
| Accuracy of Positioning (mm): | <0.1 |
| Projected Accuracy (mm): | ±0.5 at the patient (3.0 m) |
Laser Lights

Laser Technology:

Diode

Laser class:

2

Power (mW):

<1.0

Colors / Wavelength (nm):

Red 635

Green 515

Blue 450

Focus Range:

Up to 6 m

Line Width:

≤0.5 mm for all colors @ 4 m

Line Length:

≥4 meter @ 3 m

More

Less
Remote Control

Power:

3 VDC, 2 AA Alkaline

Communication:

Bluetooth BLE

Adjustment Speeds:

Slow (precision) / Fast (coarse)

Tether:

Wrist lanyard

Backlight:

All buttons

Locator:

"Find remote" option on each laser

More

Less
Tablet & Desktop

| | |
| --- | --- |
| Application: | RapidSIM 4.x |
| Operating System: | Windows 10 (or greater) |
| Communication: | WiFi (multi-band) |
Regulatory

Certifications

Complies with Center for Devices and Radiological Health regulations 21 CFR 1040 for Class II lasers and all CE requirements.

Certified to: IEC 60601 (Safety/EMC); IEC 60825-1 (Laser). 510(k) clearance (K152303). ISO13485 certified medical device manufacturer.
---